The Hahaha Times - Issue 3
Discovery
June 24, 2008
Eleven days after the release of the new issue of The Gotham Times, upon mousing over the top left corner, the paper began to smolder and burned away the first layer to reveal a link to a new version of Thehahahatimes.com.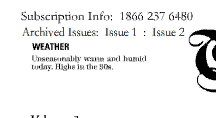 Leads
June 24, 2008
As usual, a collection of circled letters were found dispersed throughout the issue. Combining the letters in order results in:
Herrings are red
Corpses are blue
You're on the right track
But you don't have the clue
Dispersed through the issue are also the following circled words (all are 5 letters long):
party
chaos
level
aren't
twice
world
level
Dent's
Dent's
faced
urban
The significance of these words was revealed in the solution to the Be Amazed cell phone puzzle. The second letters of the fourth words to the right of the circled words spelled out "RED BALLOONS," leading to a new Whysoserious.com page: Whysoserious.com/redballoons.