Whysoserious.com
Overview:
Whysoserious.com
was the principal hub for the
Joker's
online transmissions. It was first used to recruit co-conspirators at a
popular comic book convention
, and gave the call to disturb the public via a
deranged Joker-look-a-like group photo contest
. Numerous smaller carnival-like games were also published on the site, attracting more accomplices while the Joker passed along sensitive information and disturbing propaganda as rewards. The main paths from the site are outlined below.
Trails
Summer 2007
Fall/Winter 2007/2008
Spring 2008
Summer 2008
Discovery
July 26, 2007
During the San Diego Comic-Con, vandalized $1 bills were distributed throughout the convention. These bills altered George Washington's picture to include red lipstick and blacked-out eyes (in a manner similar to the Harvey Dent photo on Ibelieveinharveydenttoo.com), as well as replacing "ONE DOLLAR" with "WHY SO SERIOUS?"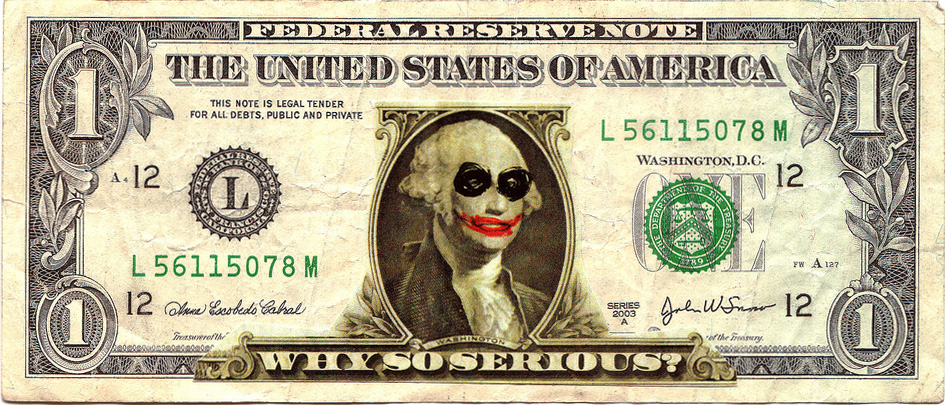 Using WHY SO SERIOUS as a URL led to a Joker henchman recruitment page. Initially, Whysoserious.com showed a vandalized Uncle Sam "I Want You" poster with a countdown to 10:00AM PDT, along with coordinates leading to a location in San Diego.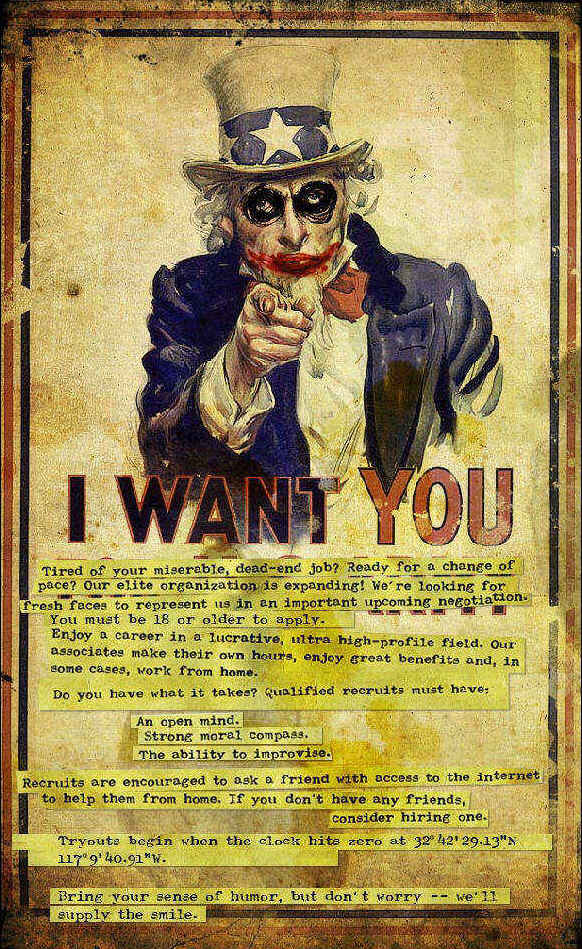 Tired of your miserable, dead-end job? Ready for a change of pace? Our elite organization is expanding! We're looking for fresh faces to represent us in an important upcoming negotiation. You must be 18 or older to apply. Enjoy a career in a lucrative, ultra high-profile field. Our associates make their own hours, enjoy great benefits and, in some cases, work from home. Do you have what it takes? Qualified recruits must have:
An open mind.
Strong moral compass.
The ability to improvise.
Recruits are encouraged to ask a friend with access to the internet to help them from home. If you don't have any friends, consider hiring one.
Tryouts begin when the clock hits zero at 32-42'29.13"N 117-9'40.91"W.
Bring your sense of humor, but don't worry -- we'll supply the smile.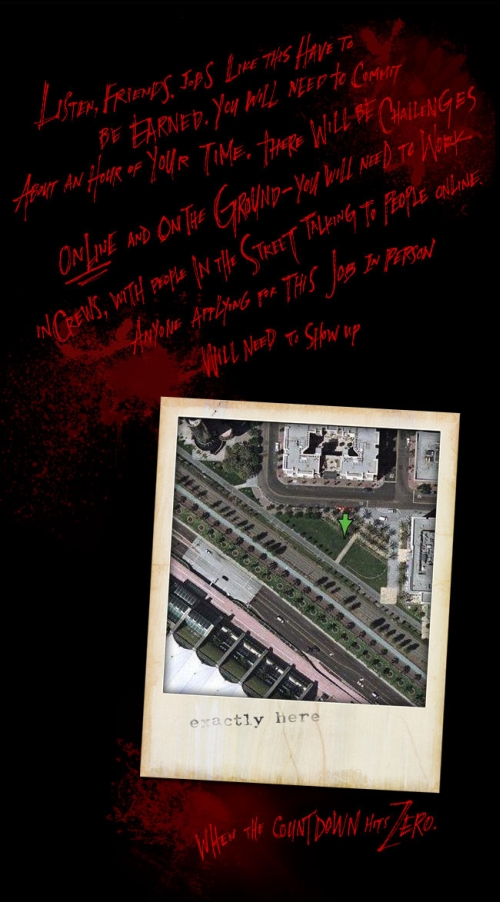 Listen, friends. Jobs like this have to be earned. You will need to commit about an hour of your time. There will be challenges online and on the ground - you will need to work in crews, with people on the street talking to people online. Anyone applying for this job in person will need to show up exactly here when the countdown hits zero.
Next: Start