Clearance Request (IA8214299)
Discovery
November 30, 2007
Online participants badgered GPDIAD officer Glenn Barhyte (glenn.barhyte@gpdiad.com) with emails, receiving personalized replies. He was adamant about not being able to talk about the mob's connection to any police officers, but he mentioned a new document: IA8214299.
[sample email]

Look, like I've told your friends, I can't talk about LC6551, or IA8214299 for that matter. I don't know who's leaking these, but I'm sure going to try to find out.
Entering that document number into the SID, logged in as Karl Breitup, showed that Breitup (who is a lieutenant) did not have clearance to view that document.
However, online hackers were able to break into Glenn Barhyte's account in the SID, and found IA8214299, which detailed the investigation into corruption accusations against Jason McCree and Karl Breitup:
Document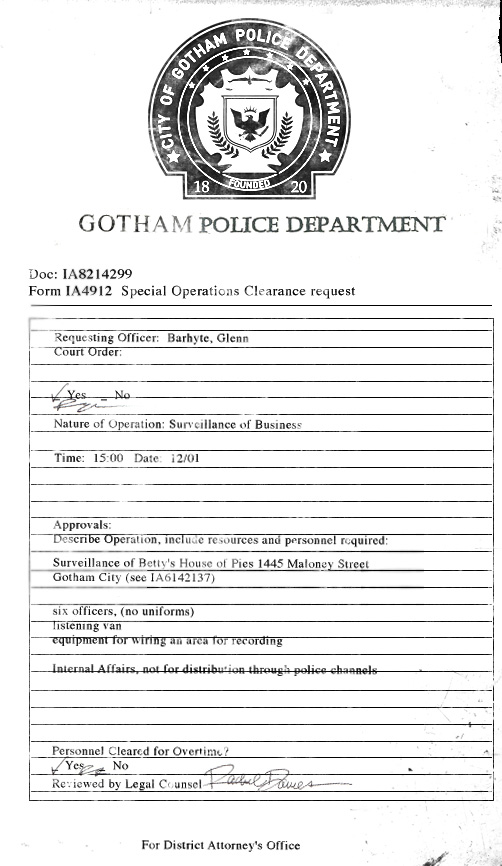 Gotham Police Department
Doc:
IA8214299
Form IA4912
Special Operations Clearance Request
Requesting Officer:
Barhyte, Glenn
Court Order:
Yes
Nature of Operation:
Surveillance of Business
Time:
15:00 Date 12/01
Approvals:
Describe Operation, include resources and personnel required:
Surveillance of
Betty's House of Pies
1445 Maloney Street
Gotham City (see
IA6142137
)
six officers (no uniforms)
listening van
equipment for wiring an area for recording
Internal Affairs, not for distribution through police channels
Personnel Clear for Overtime?
Yes
Reviewed by Legal Counsel:
Rachel Dawes
(signed)
For District Attorney's office
Leads
Another SID was mentioned in the clearance request: IA6142137
Next: Memo (IA6142137)