I Feel Pretty
The Game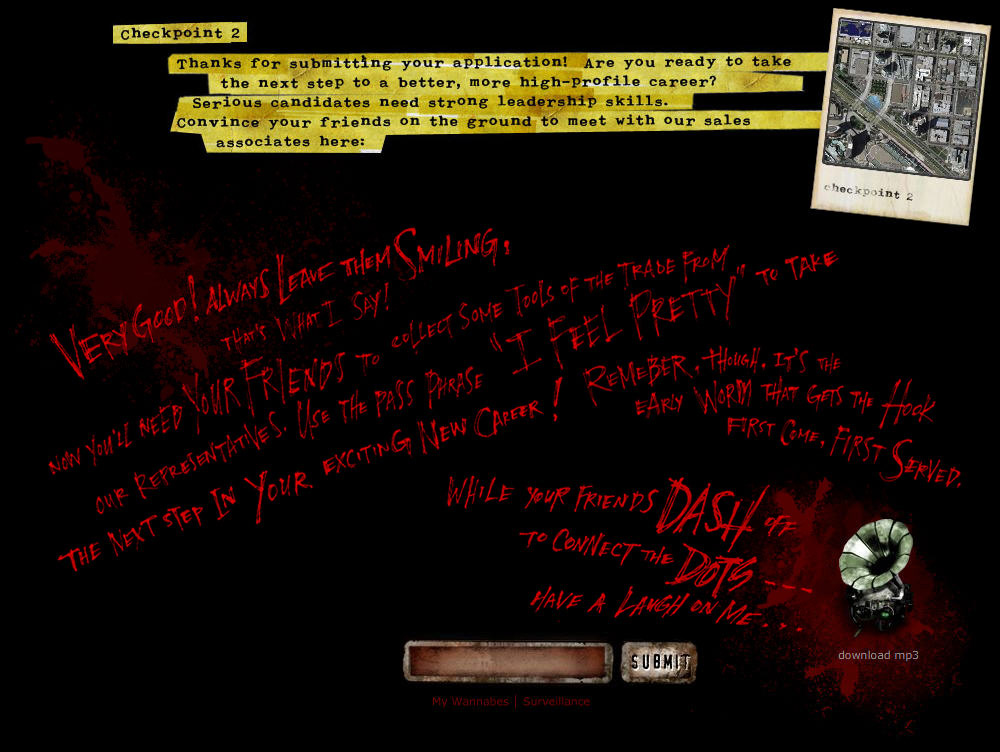 Very good! Always leave them smiling, that's what I say!

Now you'll need your friends to collect some tools of the trade from our representatives. Use the pass phrase "I FEEL PRETTY" to take the next step in your exciting new career! Remember, though, it's the early worm that gets the hook. First come, first served.

While your friends DASH off to connect the DOTS --- have a laugh on me...
Solution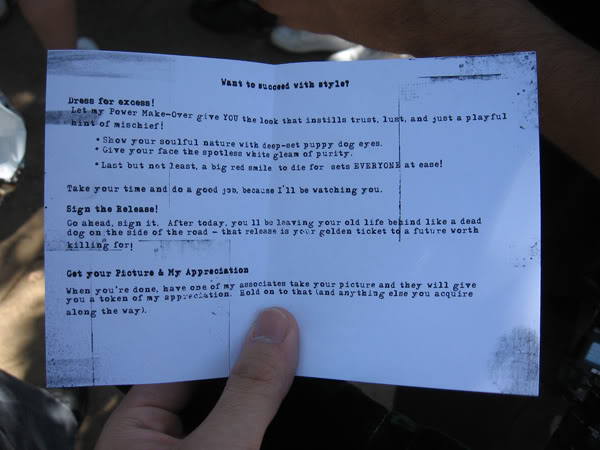 The person on the ground was instructed to meet one of Joker's "representatives" and tell them "I feel pretty," upon which they were given a clown makeup kit (and instructions with a photography waiver) and proceeded to make up their faces in the style of the Joker.
Want to succeed with style?

Dress for excess!
Let my Power Make-Over give YOU the look that that instills trust, lust, and just a playful hint of mischief!
Show your soulful nature with deep-set puppy dog eyes.
Give your face the spotless white gleam of purity.
Last but not least, a big red smile to die for sets EVERYONE at ease!
Take your time and do a good job, because I'll be watching you.
Sign the Release!
Go ahead, sign it. After today, you'll be leaving your old life behind like a dead dog on the side of the road - that release is your golden ticket to a future worth killing for!
Get your Picture & My Appreciation
When you're done, have one of my associates take your picture and they will give you a token of my appreciation. Hold on to that (and anything you acquire along the way).
In regards to the online puzzle, when players clicked on the record player, the following sound file could be heard:
It was deduced that the long/short laughter pattern represented Morse code, with the following message:
-- --- ..- -. - . -... .- -. -.-
Translated, the password was mountebank
Next: Every Other