Free pizza promotion
Discovery
June 16, 2008
As pledged by the Joker, Gotham City Pizzeria held a promotion on its website, allowing visitors to order free pizza for a day.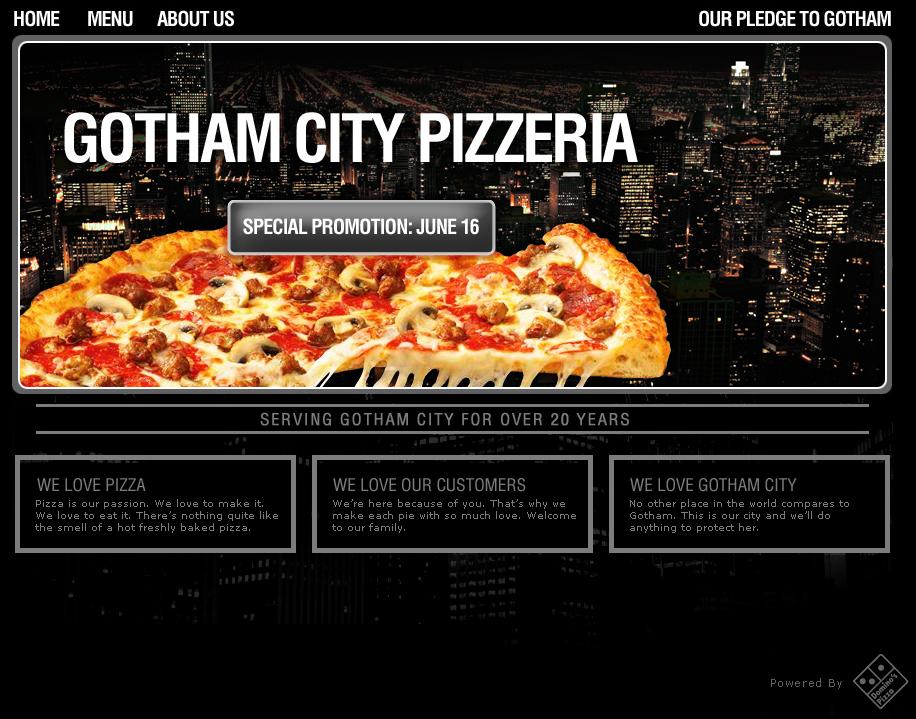 Locations
Clicking on "Special Promotion" took visitors to a map with locations where free pizzas were to be delivered. Locations became available on June 16th at 1:00pm ET.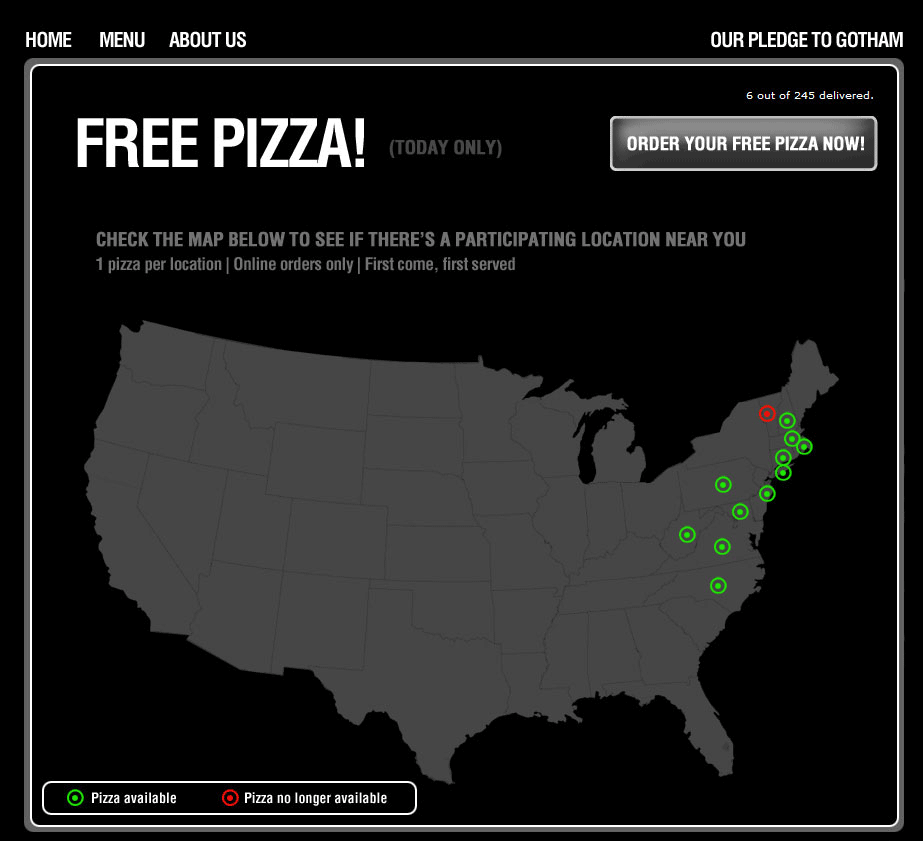 Visitors could order a free pizza from a participating Domino's location by entering their address after clicking the "Order Your Free Pizza Now!" link.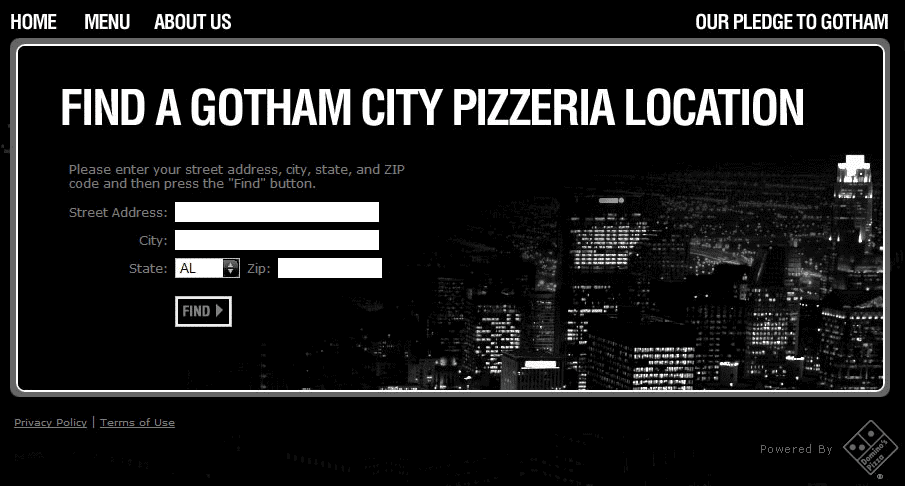 The free pizza promotion ended after the site showed 214 of the 245 pizzas had been delivered, at about 6:00pm ET.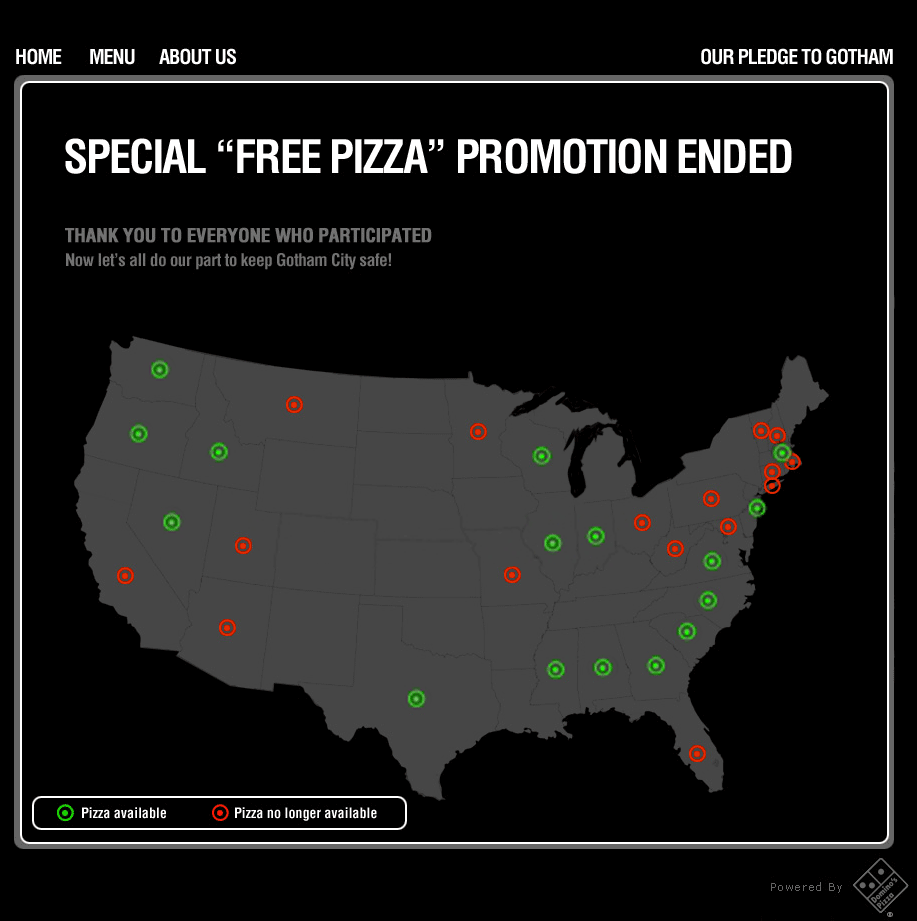 Box contents
Domino's Pizza featured several promotional Batman boxes, which the free pizzas came in. Regular customers could also buy pizza in the special edition boxes for a limited time.
While some boxes contained merely the pizza, others also held a Batman mask and a letter from Citizens for Batman.
Call (866) 696-7829
Enter Code xxxxxxxxxx
The authorities are after us, so we had to be a little secretive about our hide-out. Here is a little something to point you in the right direction:
/xxxxxxxxx
You need to share this information with other concerned Gotham citizens like yourself. I'm sure you can figure out how.
When you put the pieces together, join us - and help us fight back against the enemies of Gotham City.
Never give up,
Paul
www.citizensforbatman.org
Codes
Each letter that was included with the package contained a different word:
citizensforbatman.org
/threat
/history
/myotis
/midnight
/euderma
/underestimation
/plerotes
/fear
/nyctalus
Username: nycticeious
Password: merritt
Aftermath
After the promotion ended, the map was updated with another promotion: by purchasing a pizza from one of the Domino's restaurants that participated in the giveaway, one could receive a free copy of the third issue of The Gotham Times.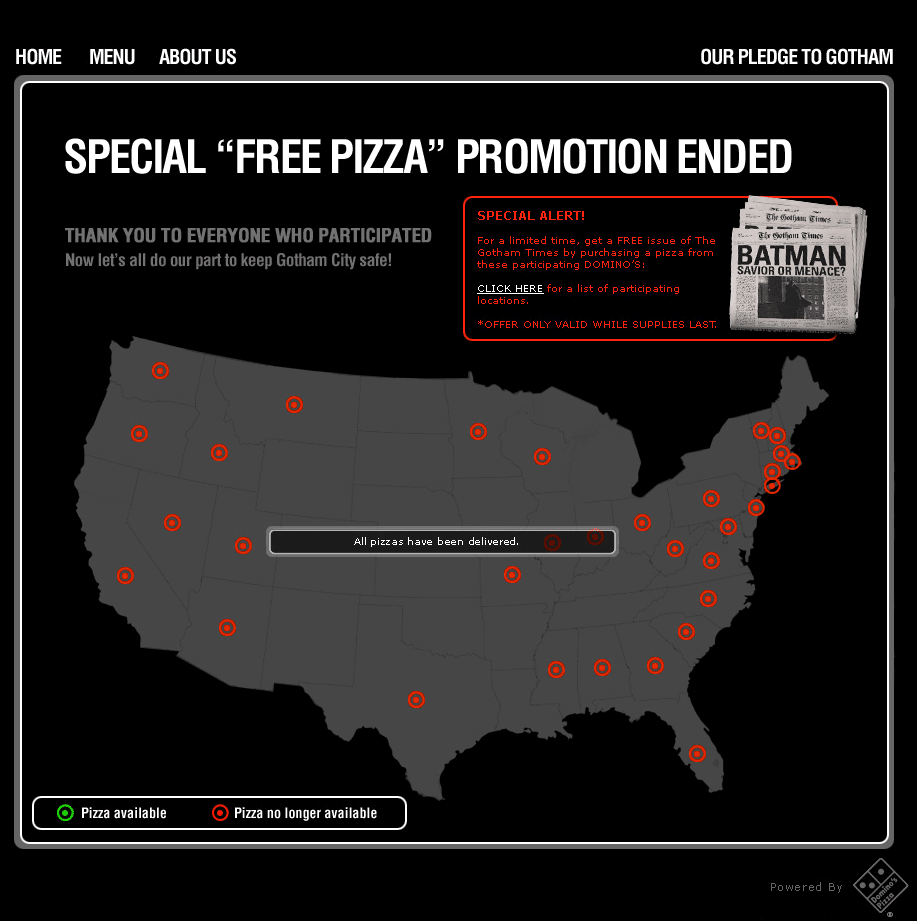 On the home page, after the promotion ended, the "HA" in "Gotham City Pizzeria" quivered upon mouseover and became "HA HA HA HA." A link was made available and led to Whysoserious.com/myhero.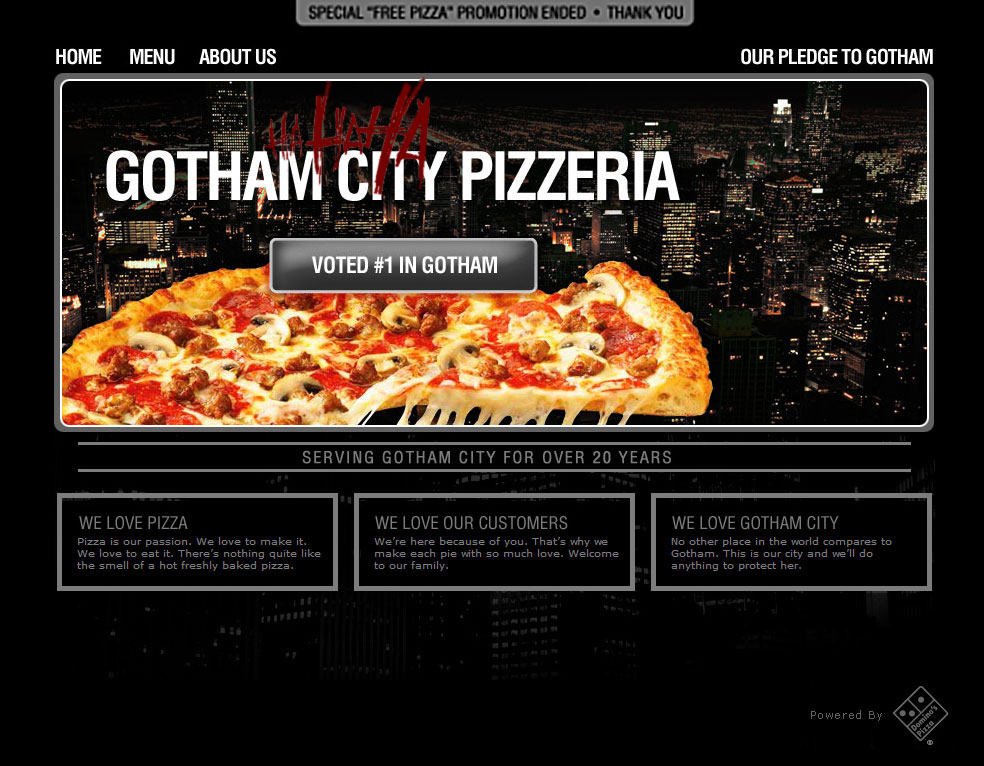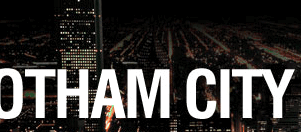 Leads
The codes form a folder location on the Citizensforbatman.org server: citizensforbatman.org/midnight/nyctalus/threat/plerotes/history/euderma/fear/myotis/underestimation. By using the username nycticeius (or nycticeious) and the password merritt, CFB Underground was discovered.
The special pizza boxes and mask could be used as crude Batman costumes, again confirming Citizens for Batman's role in encouraging ordinary citizens into vigilante activities.
Next: Evidence