Maidenavenuereport.com
Discovery
March 26, 2008
From an article in the second issue of The Gotham Times, Maidenavenuereport.com was found. As reported in the article, the site was a tabloid news site maintained by high schooler Zeke Dalwinter. He gathered news from various sources, and his site became a popular source of information and gossip for everyone in Gotham. Links on this page were added by the GPD to facilitate our investigation.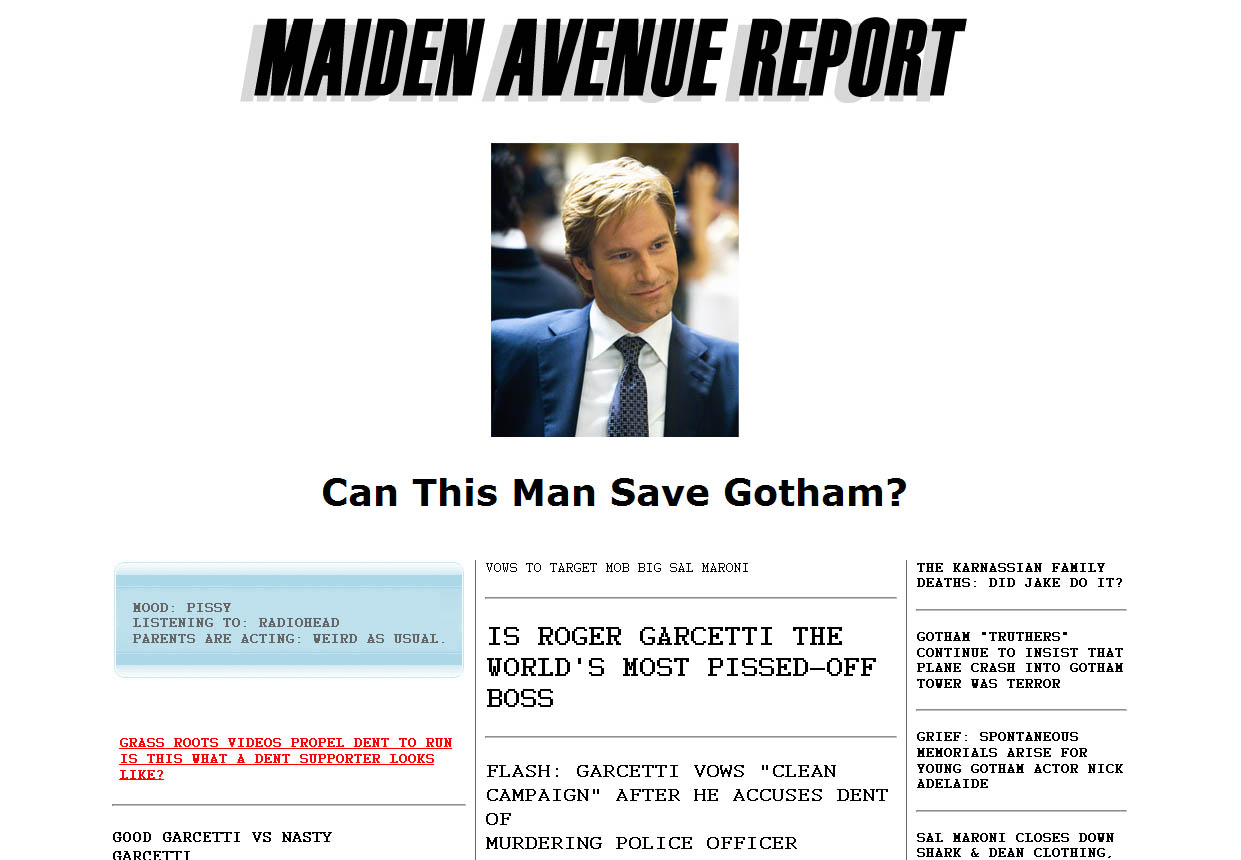 New window: Go to site mirror
Headline updates have been noted below.
Dent as Gotham's hope
March 30, 2008
(Photo of Harvey Dent) Can This Man Save Gotham?
Grass Roots Videos Propel Dent to Run! Is this what a Dent supporter looks like? (link to "You in Action" page on Ibelieveinharveydent.com)
Good Garcetti vs Nasty Garcetti

Garcetti now:
Acting DA Roger Garcetti vows to run "cleanest campaign in Gotham history" on the same day that Harvey Dent joins the race.

Garcetti then:
(DEC 14) Acting DA Roger Garcetti declares Harvey Dent guilty of murder in the Pie-Die incident where cop Karl Breitup died in a shootout. Money quote: "Dent became responsible for that man's death the first moment he decided to put lives at risk for a good video clip on the evening news."
[Dent] Vows to target mob big Sal Maroni
Is Roger Garcetti the world's most pissed-off boss?
Flash: Garcetti Vows "Clean Campaign" after He Accuses Dent of Murdering Police Officer
Elephantgate Escalates! Elephant Defense Fund accuses zoo of Vishnu-killing conspiracy!
Woman found dead in librarian's basement ...Developing
Sicko dentist pulls healthy teeth to decorate office wall
SPOILER ALERT!
Can this woman (Photo of Dana Worthington) swing the election?
Gotham "truthers" continue to insist that plane crash into Gotham Tower was terror
Grief: Spontaneous memorials arise for young Gotham actor Nick Adelaide
Sal Maroni closes down Shark & Dean Clothing, buys $30,000 worth of suits during lunch hour
Illegal drugs widespread in Arkham for less than street price!
Batman analysis reveals: Most likely to emerge between 10PM and midnight
Bruce Wayne's latest conquest: A hotel cocktail waitress?
Fear Toxin coverup? Leak says Health Department hiding cases....Developing
Father of slain girl Gina Tortericci seen at Citizens for Batman meeting
Gotham City finally Number 1! Highest suicide rate in country - hanging especially popular
Possible Dent withdrawal
April 1, 2008
(Image of skydiver) Harvey in Free Fall!
Poll shows Harvey Dent in third place in DA race
Party elders ask Dent to resign post, withdraw from race "for good of Gotham"
Garcetti: "Let us pity Harvey Dent, not hate him"
Mayor Garcia: "Harvey Dent has shamed Gotham City"
City Hall janitor: "Harvey Dent tried to throw away incriminating evidence!"
Harvey Dent's last supporter -- his mom?
Gotham man killed by floor-cleaning robot!
Anti-Dent cops the "must-have guests" at top Gotham events!
Obese woman eats herself to death at New Paradise lunch buffet!
Crazed man escapes asylum, attacks and kills two pit bulls!
Dent supporters run for cover, withdraw endorsements
Gotham Bar Association moves to debar Dent!
Notaro attack ad hits
April 6, 2008
(picture of toast and Harvey Dent) Shock poll: Harvey at 9%
Times reporter Levine: "Media packrat" prepping exclusive Notaro interview?
New attack ad final death blow to Dent campaign?
Garcetti announces "anti-corruption platform"
Dent volunteer jumps off Dent HQ roof, kills self and passerby... "blood on his Take Gotham Back button"
Despair at Dent HQ as support plummets
RUMOR: Dent will withdraw from race tomorrow... Developing
Gotham Bar Association sets meeting to disbar Dent
Is police hero Frank Notaro the last cop Dent will ever persecute?
Ca-Ching! Garcetti raises $500,000 in one fundraising dinner! ...Menu: Chicken kiev, arugula with blue cheese and walnuts, asparagus
"Friend" comes to defense of Dent
New websites
April 9, 2008
A rotating banner ad was added to the top of the page, advertising several Gotham-related websites, including Rossisdelicatessen.com, Thegothamtimes.com, Gothamnationalbank.com, and Saintswithunschurch.org. Gcferries.com and Kinslytravel.com were new to the investigation.
(Photo of Harvey Dent) The end is near
Maiden source: Dent to quit DA job in exchange for leniency in sentencing...
Child asks for piggy bank back from Dent campaign - and the answer is no!
(Photo of adorable hedgehog) Husband kills wife with pet porcupine! "Blood and quills everywhere!"
GPD may replace pepper spray with "salsa spray"
Rumors spread that Dent will resign office, withdraw from race...
Garcetti sends out memo to staffers: "No gloating over Dent"
Internal Affairs deepens investigation into Dent scandal
Rumor: Cops Dent put in jail may be released
Is MCU big Jim Gordon in contact with Batman?
Fatty-copter! 1000-lb Gotham man helicoptered out of house
(Photo of Dentmobile campaign rally) The collapse of a dream: "We can't give these Dentmobiles away now"
7-year-old boy explodes after eating matches, Chinese food!
GPD Internal Affairs source: evidence against Dent "overwhelming"
Pre-White Knight incident
April 13, 2008
(Photo of an office with IBIHD campaign materials strewn about) Shuttered!
Can Worthington give Garcetti a run?
Rumor: Officer Frank Notaro will be "star witness" against Dent in coming trial
Is this the end? Dent "mystery press conference" Sunday
Fundraising collapses... "Dent donors are extinct"
Dent inner circle "in circular firing squad"
Dent headquarters closed for lack of payment
Garcetti books inauguration party locations!
Gotham citizens furious, ashamed they were "bamboozled" into supporting Harvey Dent
Source: "Dentmobiles" may have been paid for with illegal funds, driven by ex-cons
Rumor: Harvey Dent faces jail time for "prosecutorial misconduct"
April 16, 2008
(Photo of smiling young woman) Saved by Harvey Dent "He's my White Knight"
Woman weeps at emotional press conference, thanks Harvey Dent thru tears
Overheard: Dent said "I'm coming in. Nobody's gonna get hurt."
Defused hostage crisis at Deli after offering himself for woman
GPD: Crazed "smear cop" wanted protection for his family
Sources: Smear campaign "unravelling"
Harvey Dent rescues woman held hostage by "smear cop"
Heroic act of courage witnessed by millions of TV and radio viewers
Initial reports say crazed "smear cop" was coming clean about mob ties to smear campaign
WitessS: "It began as an argument, then a gunfight right there in the deli!"
Second victim Jonny Marinotti in critical condition
Witness: Notaro took woman hostage as cops arrived after shootout
Mike Engel: "A day Gotham can be proud of"
Deli-verance for Dent's campaign?
Rumor: Woman Dent saved was Garcetti supporter
Dent was close-by for scheduled press conference
April 24, 2008
(Photo of Harvey Dent) The White Knight of Gotham?
Report: Prosecution of "smear cops" for ties to mob near
Dent and Frank Notaro meet privately at Gotham jail
Dent campaign rises from dead
New poll shows Dent up by 10
Owner of Rossi's Deli sells surveillance tape of incident for $545,000
Developing: GCN video courier missing
Garcetti: "Allegations against Dent should be investigated...Dent is not the messiah"
June 9, 2008
(Photo of money) Sell Out! Maiden Avenue Report Shut Down
Zeke Dalwinter hired by major media company
Story under blackout
Announcement to follow
Parents demand portion of pay for college fund
Leads
Next investigations: Redemption