Gothamnationalbank.com
Discovery
November 23, 2007
From an ad in the first issue of The Gotham Times, Gothamnationalbank.com was found.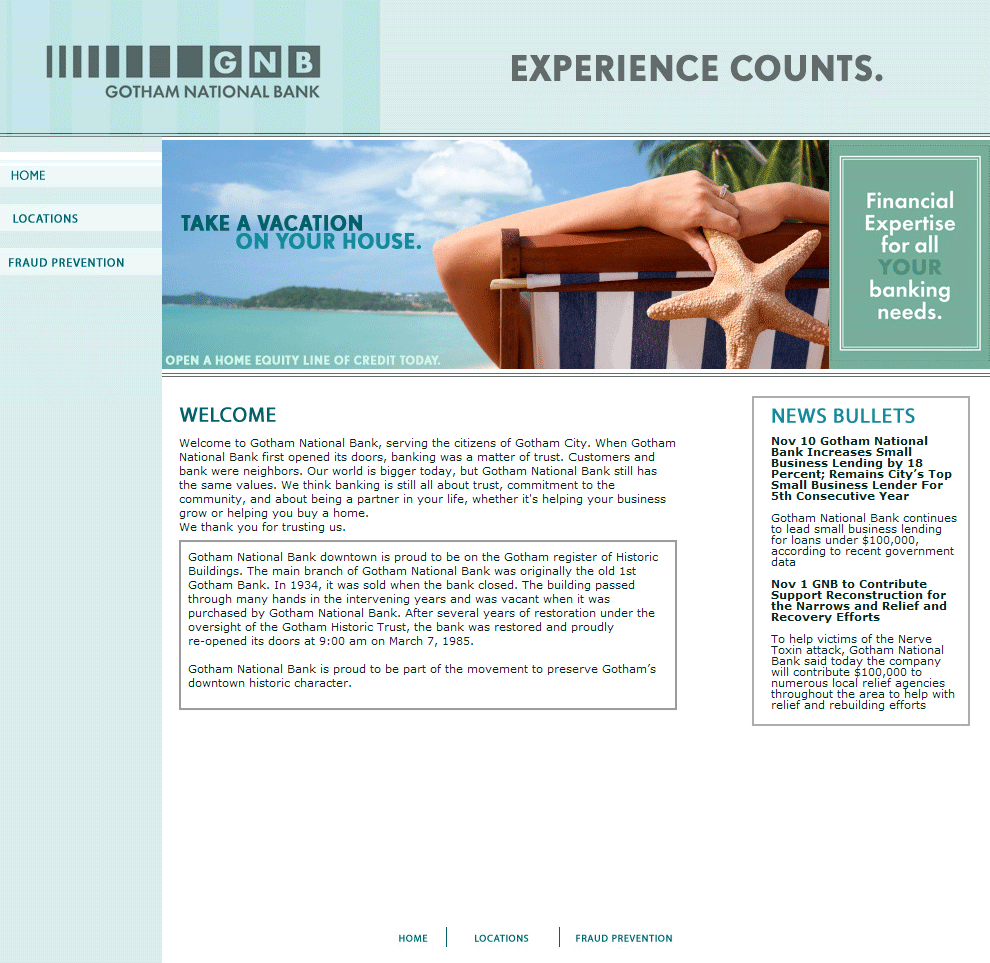 New window: Go to site mirror
Welcome
Welcome to Gotham National Bank, serving the citizens of Gotham City. When Gotham National Bank first opened its doors, banking was a matter of trust. Customers and bank were neighbors. Our world is bigger today, but Gotham National Bank still has the same values. We think banking is still all about trust, commitment to the community, and about being a partner in your life, whether it's helping your business grow or helping you buy a home. We thank you for trusting us.
Gotham National Bank downtown is proud to be on the Gotham register of Historic Buildings. The main branch of Gotham National Bank was originally the old 1st Gotham Bank. In 1934, it was sold when the bank closed. The building passed through many hands in the intervening years and was vacant when it was purchased by Gotham National Bank. After several years of restoration under the oversight of the
Gotham Historic Trust
, the bank was restored and proudly re-opened its doors at 9:00 am on March 7, 1985.
Gotham National Bank is proud to be part of the movement to preserve Gotham's downtown historic character.
Locations
The site features a page displaying ATM locations throughout the city.
Deposit slip
July 8, 2008
A Gotham National Bank deposit slip was packaged with a documentary DVD set featuring the Batman's possible origins.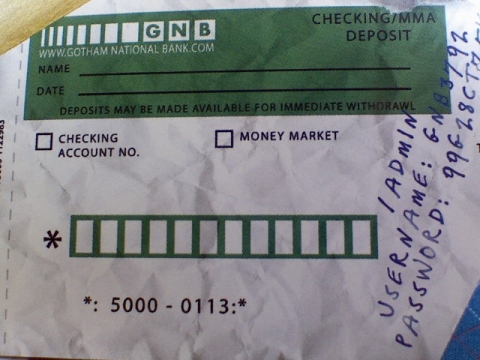 The following was hastily written on the deposit slip:
/admin
Username: gnb3792
Password: 99g28ct75k

This led to Gothamnationalbank.com/admin.
Leads