Josephcandoloro.com
Discovery
March 30, 2008
Josephcandoloro.com was the business website for Joseph Candoloro, the founder of Ccfabg.org, from which the site was found.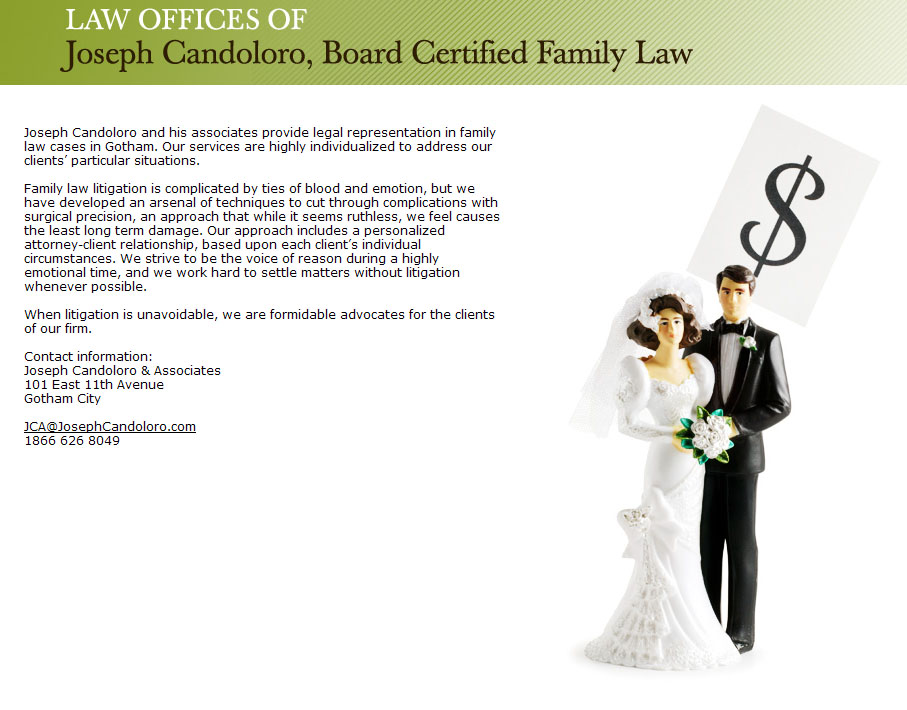 New window: Go to site mirror
Voicemails
March 30, 2008
By calling the number 1-866-626-8049 and entering in the correct PIN (1149, the price of "Joe's Favorite") on the menu at Rossisdelicatessen.com, one could access Candoloro's voicemail:
Hello, Candoloro and Associates! Mr. Candoloro ain't available right now, but ya never know. So leave a message, and Mr. Candoloro will get back to you. If he ain't busy.

At the tone, leave a message. Administrator, enter your PIN now.
Hello, Counselor! It's
Rossi!
I just saw the papers. Congrats on our little project. Our friends are pleased. Oh, and uh, the Internal Affairs investigation, number
1A176495U
- "U" as in, "you didn't see nothin'?" Well that was killed from upstairs. What'd I tell ya? You worry too much, old man. Tell me when you let go of that secretary of yours.
580-3840
.
April 1, 2008
New message on Candoloro's voicemail, referring to the exercise on Clowntravelagency.com. It also implies that "Giuseppe" is in fact Joseph Candoloro.
Giuseppe it's me,
Iceman
. What do you know about this
bowling thing
? Everyone's talkin' about it. I don't like it, I don't like it at all.
April 4, 2008
Giuseppe its me uh... the uh...
Iceman
! Let's get those cops on the interview rounds their gold... Those poor, poor, misunderstood, persecuted cops! We need to put them in front of
Engel
,
Levine
, everyone with a God-damned megaphone.... oh uh I need a reservation at that place with the great veal.
April 6, 2008
Giuseppe it's me,
Iceman
. This is getting fun! That
attack ad
is viscious, it's perfect!
Dent
is drowning and we're throwing him an anvil. Oh, I love an unfair fight! Call me.
April 9, 2008
Giuseppe, it's the Iceman! That
Notaro
character - we gotta get him another medal, he deserves it!
Dent's
in single digits! I think the Loch Ness Monster has more support!
Ooh, I...I need a good table at that veal place. I'm bringin' the lady.
April 15, 2008
A few days after Frank Notaro started to speak out against Ccfabg.org on behalf of Harvey Dent:
Giuseppe, it's me,
Iceman
. Look, you can't just
disappear
. The papers will destroy you if they can't talk to you. We gotta stick together. Everything will be fine if we just stick together. Call me.
April 18, 2008
Shortly before the initiation of Operation Slipknot:
Giuseppe it's me,
Iceman
- wherever you are, make sure those cops
disappear
. I think we can pull this thing out but the cops must never be found! Dammit!
April 23, 2008
Coinciding with Operation Slipknot:
Giuseppe, it's me, the
Iceman
. I'm not going down alone, Giuseppe. That's not a threat,
it's a promise
.
April 25, 2008
New automated message:
The number you have reached - 866 626 8049 - cannot be reached as it is currently outside the service area. Please try again later.
This message was repeated three times before the line was automatically disconnected.
Leads