Ibelieveinharveydent.com
Recruitment
February 29, 2008
After a long period of dormancy from its first iteration, Ibelieveinharveydent.com was updated with a submission field where interested visitors could submit their email address and phone number.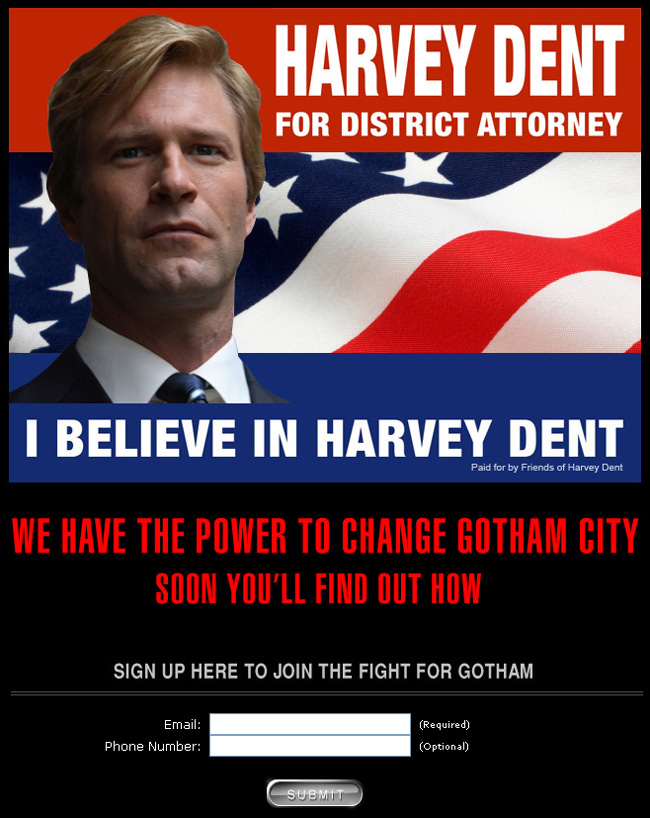 Official emails
Sent from takebackourcity@ibelieveinharveydent.com
Upon registering to receive updates on Ibelieveinharveydent.com, the following email was received from takebackourcity@ibelieveinharveydent.com. Subsequent emails can be found on this page, although they are noted here at each occurrence.
Citizens of Gotham! The future of our city rests in your hands!
Alone, we are helpless against the thugs and killers menacing our city.
Together, we have the power to take back Gotham.
In just a few days, you'll find out how.
Keep an eye on
http://www.ibelieveinharveydent.com
-- and get ready to join a movement that will transform our city!
takebackourcity@ibelieveinharveydent.com
Phone call
March 7, 2008
Participants who submitted a phone number into Ibelieveinharveydent.com received a phone call from Harvey Dent:
Hello. I'm Harvey Dent, Assistant District Attorney of Gotham City. I'm calling to ask for your support. We all know what's wrong with Gotham. Crime is out of control, and instead of protecting our streets, too many cops have become criminals themselves. This is why my mission has been to stamp out police corruption. And this is why I'm considering a run for District Attorney. But I can't do it alone. I need to know if you, the people of Gotham, want change. Do you want a Gotham free from the grip of criminals and the corrupt? Are you ready to join a crusade to take back our city? If this is a change you desire, if you're fed up with living in fear, go to
Ibelieveinharveydent.com
and see how you can join the struggle to take back our city. I'm ready to fight for Gotham, if you are ready to fight too.
In addition, there was a major overhaul of the campaign website, which included flyers to print, a nationwide map of his upcoming "Dentmobile" campaign, and a chance to submit photos of the public campaign effort.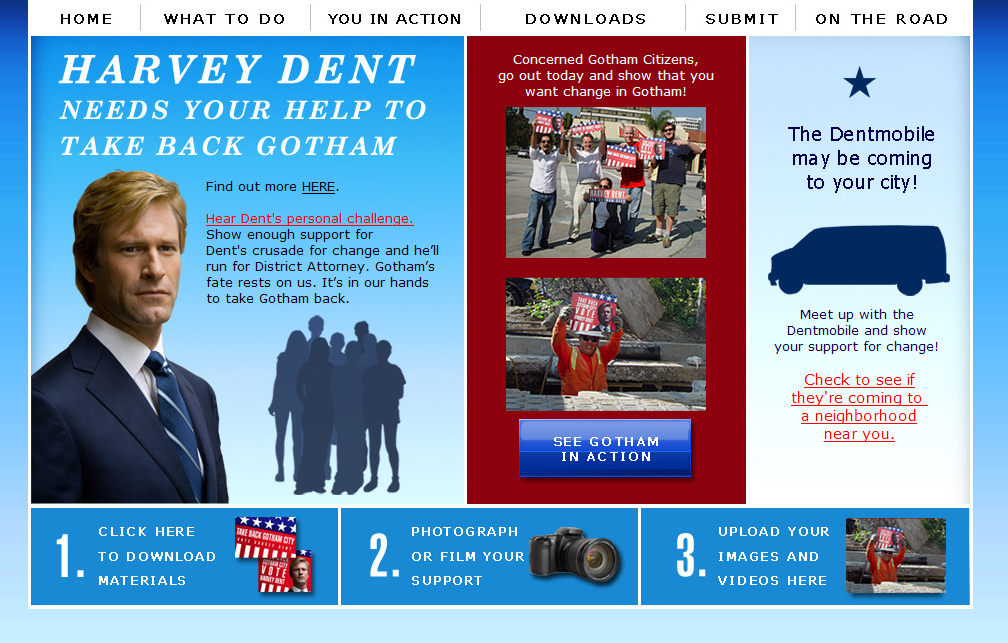 Submissions
Visitors were encouraged to publicly show their support for Dent on the "What to do" page, namely by submitting their photos and videos of support.
As confirmation upon submission, an email was sent from submissions@ibelieveinharveydent.com:
Email verification

Thank you for your submission!

You can be proud that you are part of a movement sweeping Gotham -- the movement to take back our city and convince Harvey Dent to run for District Attorney. Every submission we get brings us one step closer to meeting Harvey Dent's challenge to Gotham City!

The Friends of Harvey Dent Committee is reviewing your submission right now. We will alert you when the submission is placed on the campaign web site.
Once the item was posted on the site, another email was received by the participant from submissions@ibelieveinharveydent.com:
Photo/Video submission status
Dear <participant name>,
Congratulations! I Believe in Harvey Dent has approved your video/photo submission! You can view it now at
http://www.ibelieveinharveydent.com/youinaction.aspx?---
We have noted that your address puts you in the following voting district: <assigned voting district>
We hope that we can count on your vote on Election Day! Thanks for joining the movement to take back Gotham City!
Submissions became available for viewing on the "You in action" page on March 10. Popular photos were featured in three levels of support: Supporters (Bronze), Patrons (Silver*, and Friends (Gold) of Harvey Dent.
Vote
March 12, 2008
Supporters were mailed official Gotham City voter registration cards from the Gotham City Clerk.
It contained information about the recipient's voting district, as well as a summary of all the propositions on the ballot.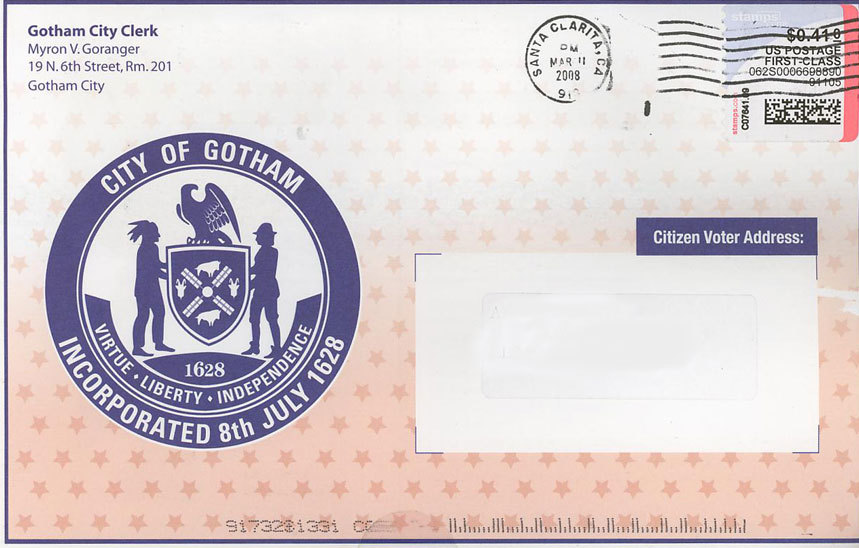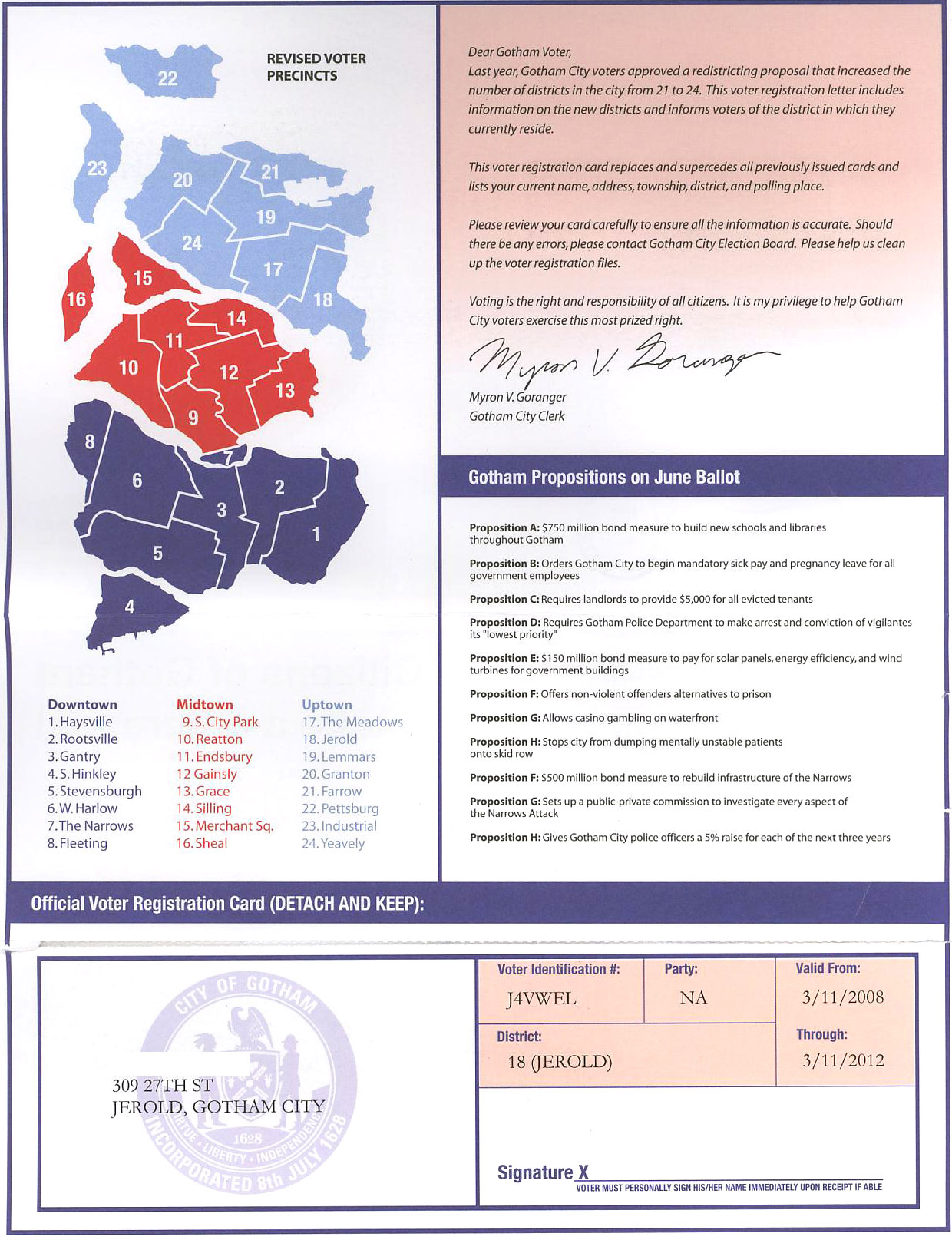 An update email was sent from takebackourcity@ibelieveinharveydent.htm.
Special delivery
March 15, 2008
Numerous people affiliated with marketing companies began receiving a FedEx package containing a folder with various Dent campaign materials and a letter: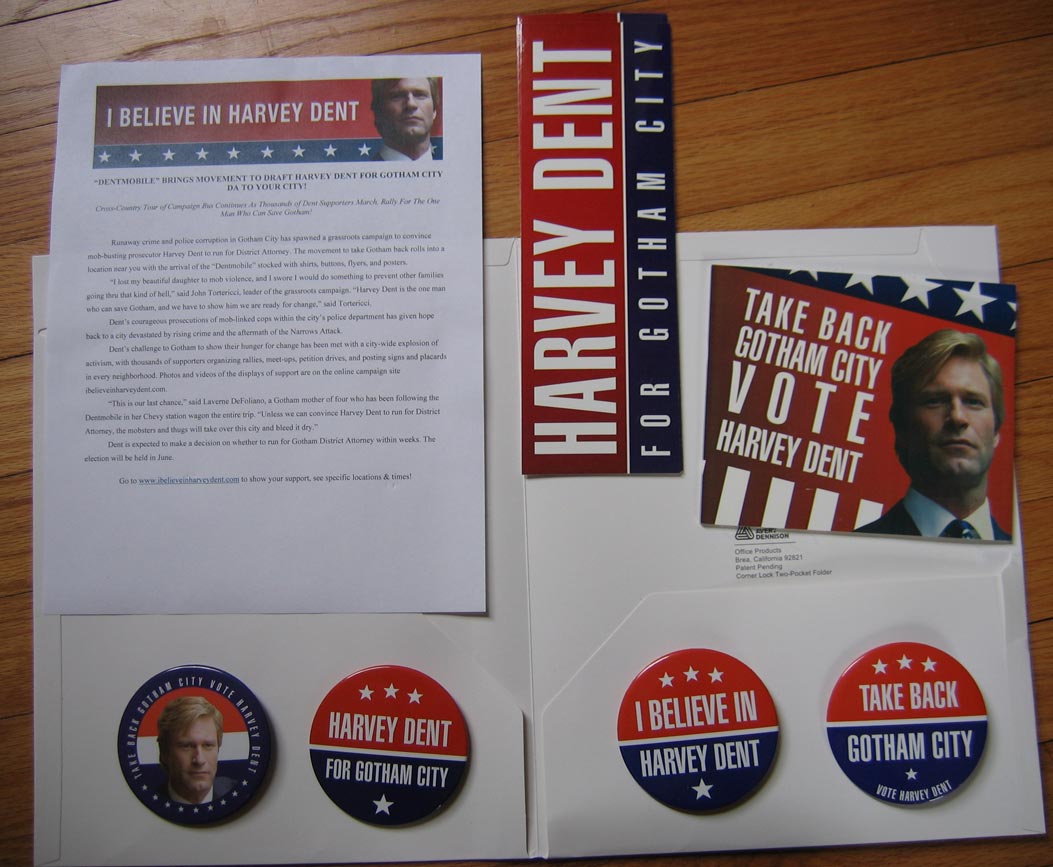 "DENTMOBILE" BRINGS MOVEMENT TO DRAFT HARVEY DENT FOR GOTHAM CITY DA TO YOUR CITY!
Cross-Country Tour of Campaign Bus Continues as Thousands of Dent Supporters March, Rally For The One Man Who Can Save Gotham!
Runaway crime and police corruption in Gotham City has spawned a grassroots campaign to convince mob-busting prosecutor Harvey Dent to run for District Attorney. The movement to take Gotham back rolls into a location near you with the arrival of the "Dentmobile" stocked with t-shirts, buttons, flyers, and posters.
"I lost
my beautiful daughter
to mob violence, and I swore I would do something to prevent other families going thru that kind of hell," said John Tortericci, leader of the grassroots campaign. "Harvey Dent is the one man who can save Gotham, and we have to show him we are ready for change," said Tortericci.
Dent's courageous prosecutions of mob-linked cops within the city's police department has given hope back to a city devastated by rising crime and the aftermath of the Narrows Attack.
Dent's challenge to Gotham to show their hunger for change has been met with a city-wide explosion of activism, with thousands of supporters organizing rallies, meet-ups, petition drives, and posting signs and placards in every neighborhood. Photos and videos of the displays of support are on the online campaign site Ibelieveinharveydent.com.
"This is our last chance, said Laverne DeFaliano, a Gotham mother of four who has been following the Dentmobile in her Chevy station wagon the entire trip. "Unless we can convince Harvey Dent to run for District Attorney, the mobsters and thugs will take over this city and bleed it dry."
Dent is expected to make a decision on whether to run for Gotham District Attorney within weeks. The election will be held in June.
Go to
http://www.ibelievinharveydent.com
to show your support, see specific locations, & times!
Announcement
March 26, 2008
Update emails were sent from takebackourcity@ibelieveinharveydent.htm on March 19 and March 26, immediately before and after Dent's official campaign announcement.
On March 26, the campaign website was extensively updated to mirror Harvey Dent's official announcement about running for Gotham DA.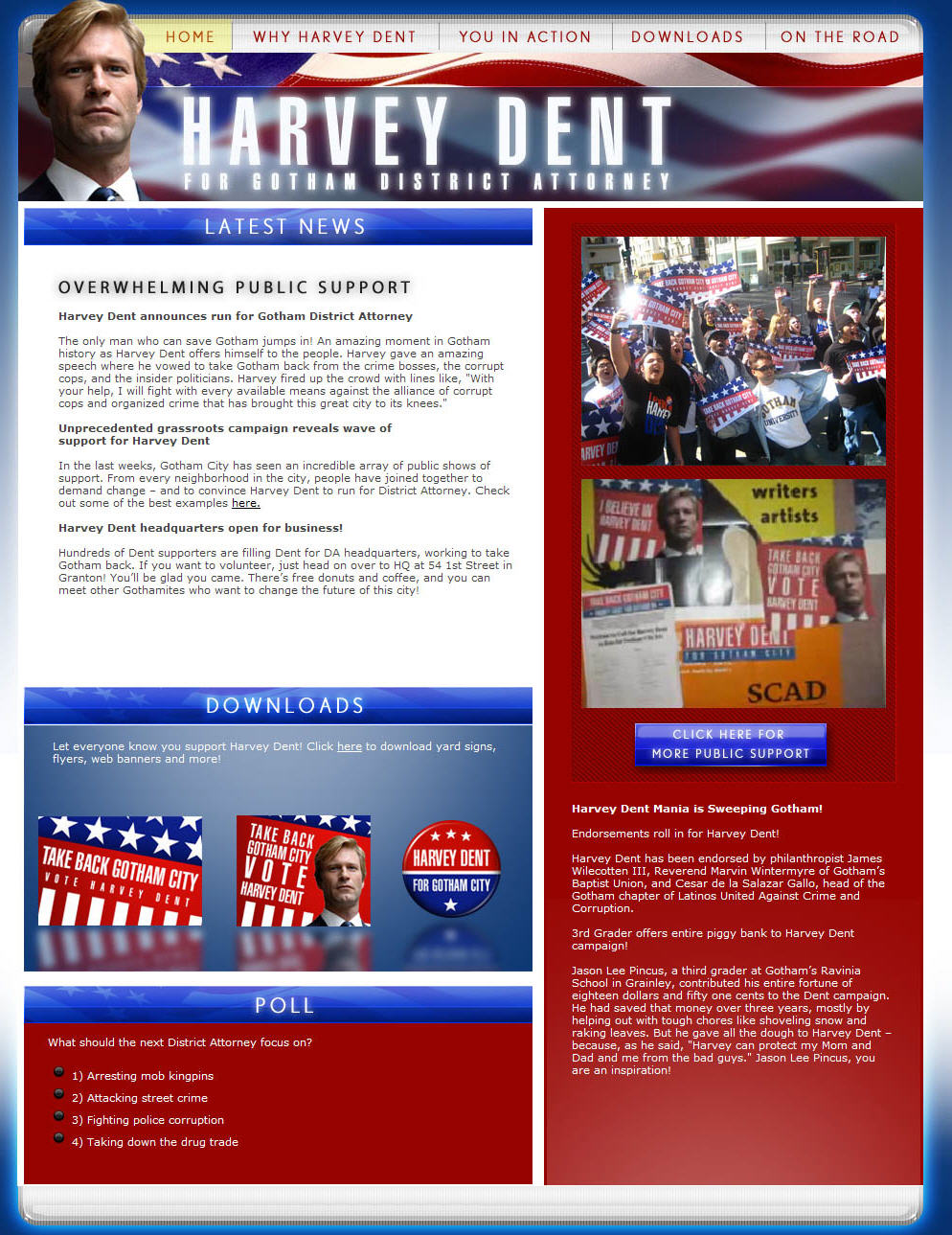 New window: Go to site mirror
Campaign materials
March 26, 2008
On the day Harvey Dent officially announced his candidacy for Gotham DA, supporters who sent in photos and video began to receive a plain manila envelope containing a new issue of The Gotham Times, as well as a varied collection of campaign material.
The "Downloads" area of the official site also contained poster files, website banners, buddy icons, and desktop wallpapers.
Next: Dentmobile stops