Operation Slipknot
Email
April 18, 2008
An email was sent from Jim Gordon <jim.gordon@gpdmcu.com> to informants who were caught via Acmesecuritysystems/delos:
It's Time.

My friend,

Indictments are about to be handed down. If you don't want your name on one, we'll need your full cooperation in an upcoming operation.

In case you haven't heard, we are struggling with a bit of corruption in the department. I'm not about to let the Gotham PD collapse in on itself, so we're taking action. We've identified a group of offenders that need to be apprehended. Problem is, most of these cops are hightailing it out of the city. But a C.I. just like you just gave us some information on their last known whereabouts. Now all we need is to catch them. This is where you come in.

Consider yourself on deck. I'll contact you next week, and letís just say it's in your best interest to play along. County's not a place you want to spend the rest of your life.

Lt. Jim Gordon, MCU
Slipknot
April 23, 2008
Another email sent from Jim Gordon:
Operation Slipknot

OK friend, you're up to bat now. You have yourself a new assignment: Operation Slipknot.
Note: "Operation Slipknot" contained a link to Gpdmcu.com/operationslipknot.
The operation was a hunt for GPD officers who had been issued arrest warrants due to their involvement with Concerned Citizens for a Better Gotham. Mugshots were featured on the site, and clicking on them led to details about their identity.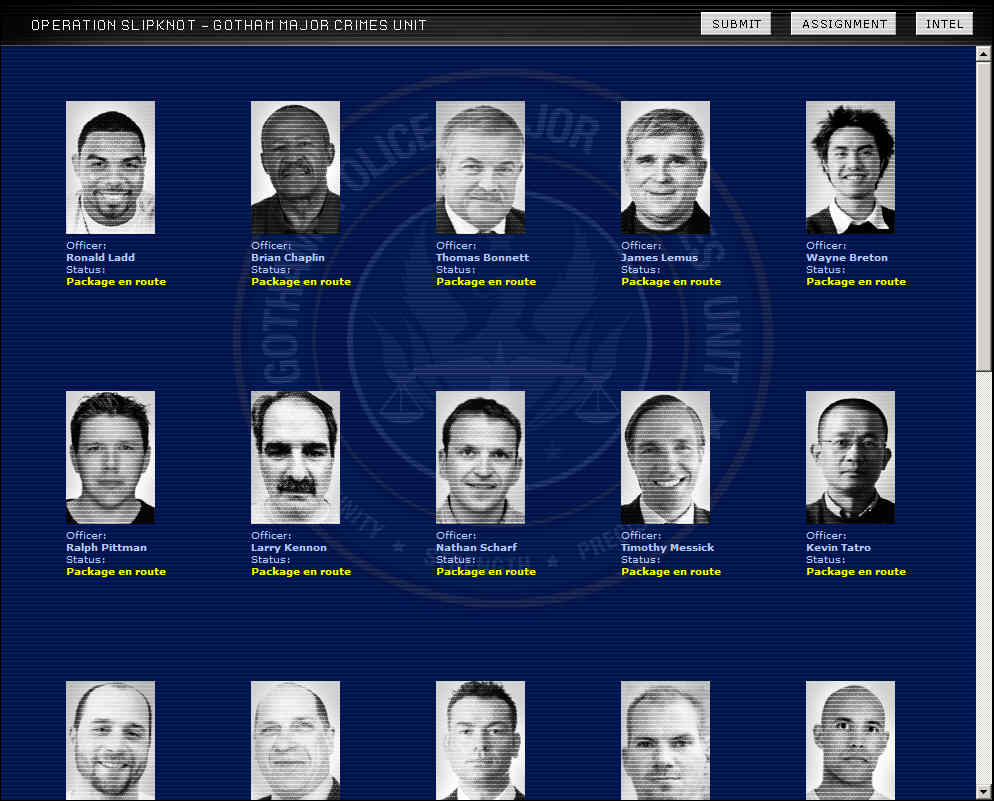 Assignment
OPERATION SLIPKNOT
Gotham Police Major Crimes Unit
, in cooperation with the
GPD Internal Affairs Division
, needs you to help track down numerous offenders that are fugitives from justice. Interestingly, we've tracked all of these individuals to the same last known location:
Gotham Intercontinental Hotel
. But we don't know where they've gone from there.
Call the hotel and convince the concierge to ship you a certain package that's been sent there for each fugitive. Use the provided
intel
and whatever means you can to convince him that you're the intended recipient, your travel plans have changed, and he needs to send the package to you. Once received, you should have all you need to fill in the blanks as to that fugitive's location.
We will add details about additional fugitives as they become available. Time is of the essence, as we have only a short time before the trail runs cold. Your cooperation in this operation will go a long way. Good luck.
The participant was meant to call the Gotham Intercontinental Hotel (1 866 306 5589) and tell the concierge they are one of the officers in question (giving the corresponding reference number for each individual officer), and that their travel plans had changed so the package needed to be forwarded. The concierge asked for a mailing address, and the participant was then told that the package would be sent overnight to them, addressed to the participant "in care of." The participant's phone number was also requested in case there was an issue with the package.
Intel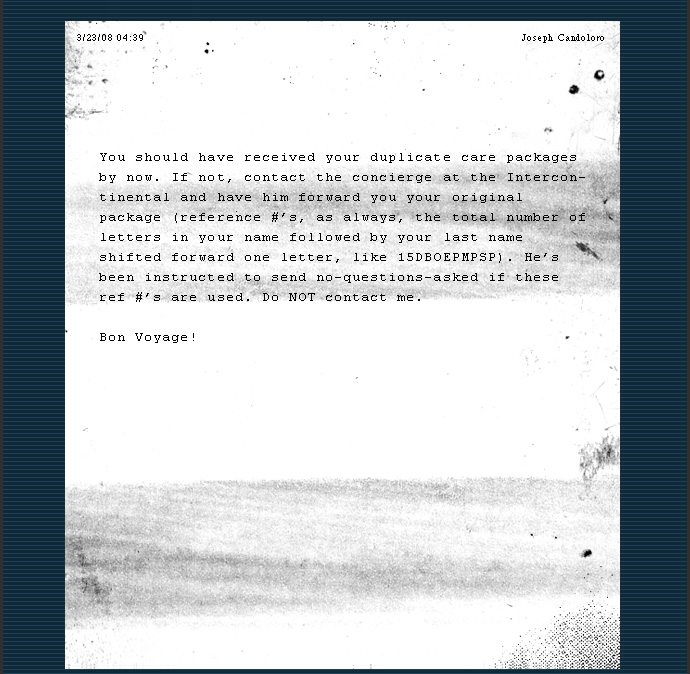 3/23/08 04:39
Joseph Candoloro
You should have received your duplicate care packages by now. If not, contact the concierge at the Intercontinental and have him forward you your original package (reference #'s, as always, the total number of letters in your name followed by your last name shifted forward one letter, like 15DBOEPMPSP). He's been instructed to send no–questions –asked if these ref #'s are used. Do NOT contact me.
Bon Voyage!
Submit
If you have
received a package
, enter any pertinent intel on your subject here: the confirmation # of their ticket, the last name of the alias they're traveling under, and the city they're flying to. If everything checks out, we'll forward it so that appropriate action can be taken.
CONFIRMATION #:
LAST NAME THE SUSPECT IS TRAVELLING UNDER:
DESTINATION CITY:
Once the informant had received the package and submitted the information, the status of their officer changed to "Moving to Apprehend."
Aftermath
Uploading
April 23, 2008
After all packages were intercepted, a message popped up automatically upon page load: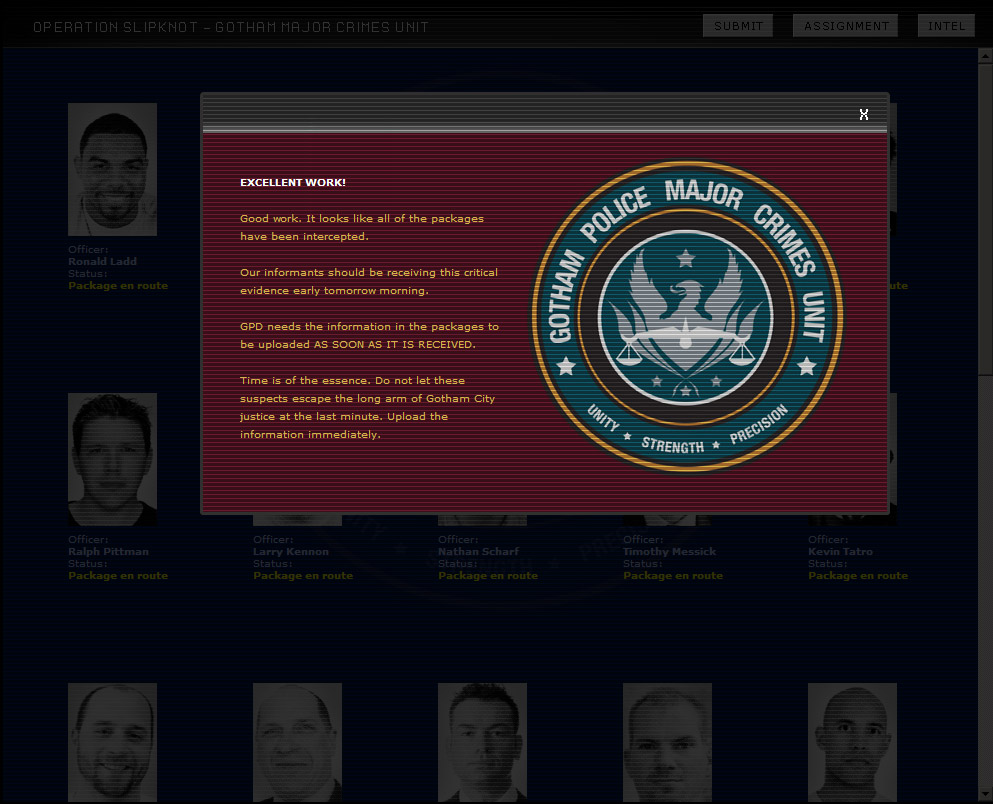 EXCELLENT WORK!

Good work. It looks like all of the packages have been intercepted.

Our informants should be receiving this critical evidence early tomorrow morning.

GPD needs the information in the packages to be uploaded AS SOON AS IT IS RECEIVED.

Time is of the essence. Do not let these suspects escape the long arm of Gotham City justice at the last minute. Upload the information immediately.
Standing by
April 24, 2008
As informants began to receive their packages, the webpage's Assignment section was updated:
OPERATION SLIPKNOT

Within the last twenty-four hours, many of your colleagues intercepted packages intended for the 30 fugitives pictured here.

These informants are now receiving this critical evidence.

MCU is standing by. We need the information in the packages to be uploaded AS SOON AS IT IS RECEIVED. We will process the information and implement our final apprehension/extradition plans by 6:00 pm.

Time is of the essence. Do not let these suspects escape the long arm of Gotham City justice at the last minute. Upload the information immediately.
Capture
April 24, 2008 at 6pm EDT
The home page was updated to show a new message:
EXCELLENT WORK!

It looks like we're close to apprehending all suspects. Please stand by...
Completion
April 24, 2008 at 7:30pm EDT
The home page was again updated:
EXCELLENT WORK!

Operation Slipknot is complete. Even though three suspects remain at large, your work represents a huge step forward in cleaning up our beloved city.

The fugitives are being arrested, handcuffed, and extradited back to Gotham for prosecution.

Doesn't it feel better to be on the right side of the law for once?

Thanks to you, Gotham can hold its head high once again. But do me one favor... stay out of trouble.
Phone call
Soon after, a call from Gordon was received by all intercepting informants:
Hello friend! It's been a while. You've done a good thing for Gotham. I'm sure the District Attorney's office will appreciate your willingness to cooperate with this investigation. Keep helping us out, and we'll go easy on you. Who knows? Maybe you won't have to spend a single day in jail. Have a good one and...stay out of trouble, okay?
A text message from humanresources@whysoserious.com was also received by these new participants, leading to Whysoserious.com/Itsallpartoftheplan.
Email
June 20, 2008
A new email from Gordon was sent to all Delos informants:
To all MCU personnel,

With the probe into money laundering operations of the Gotham mobs well underway, I wanted to thank you for all your hard work and ask you all to keep your eyes open.

We all know that the mob can be quite ingenious when it comes to money laundering schemes. MCU must be just as ingenious in trying to root these schemes out.

Please, in your everyday life - as well as your work on the job - keep a lookout for anything out of the ordinary that may signal a money laundering scheme. Overheard conversations, suspicions of stores you frequent, etc. Everything is fodder for this critical investigation.

If you have any leads, tips, or information that can help the Major Crimes Unit crack this murky network of banks, businesses, and the people who run them, do not hesitate to contact me.

Thanks.
Jim
Next: List of officers