GNB.com/admin
Discovery
July 8, 2008
From information found on the distributed Gotham National Bank deposit slip, a bank employee's webmail was discovered and broken into. The owner of the account is presumed to be the bank's manager. Links between email references have been added to facilitate our investigation.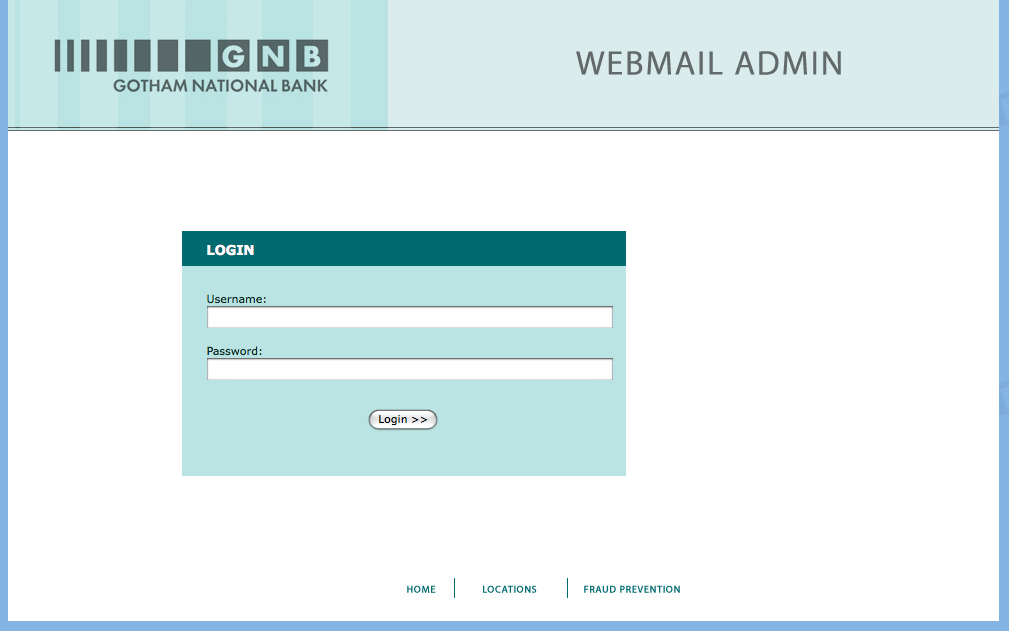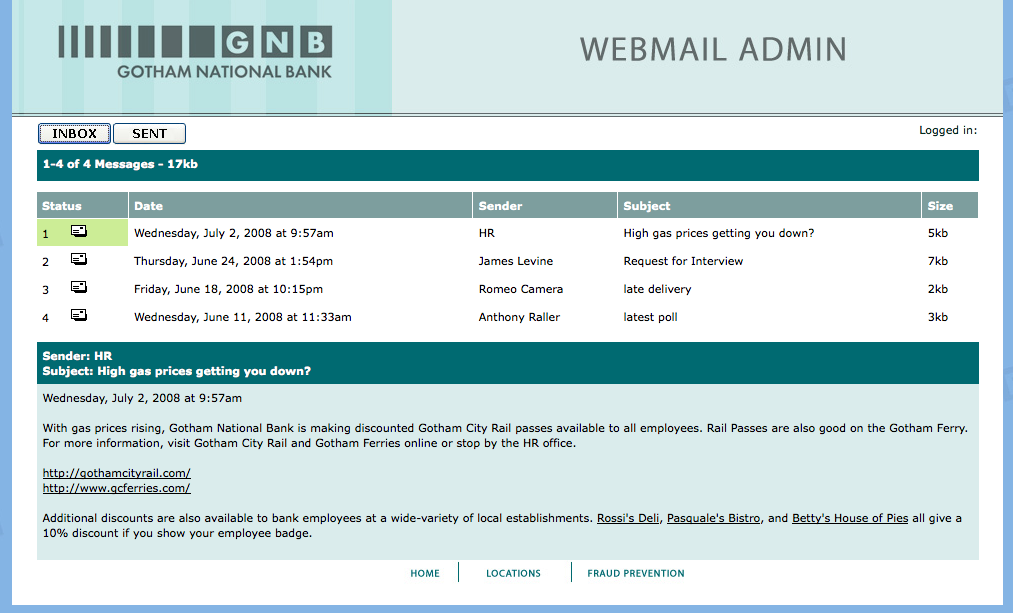 Inbox
late delivery
June 18, 2008
Sender: Romeo Camera
won't be by on Monday like the usual. I'll be there with Rosolio on Tuesday with the drop off. You'll be in your office around 10 right?
Request for Interview
June 24, 2008
Sender:
James Levine
Dear Sir,
James Levine
from
The Gotham Times
here. If you haven't been following my stories, I've been on the organized crime beat for years. I'm also a regular commentator on
Gotham Cable News
.
I'm following up on a lead I'd like to ask you a couple questions about. Nothing too serious. Just trying to connect some wayward dots over here.
When would be a good time for me to swing by?
James Levine
Crime Reporter
The Gotham Times
www.thegothamtimes.com
Sent
RE: late delivery
June 21, 2008
To: Romeo Camera
fine, but no later. I got the paperwork ready and stamped to get this all cleaned up.
But that Myles woman's going to be around so make sure you come right to my office. If she says anything to you, say it's a private banking matter for select clients I've been handling for years.
Are you coming or not?
June 24, 2008
To: Romeo Camera
Didn't see you and your associate today. Are you coming or not? It's not good for any of us if your employer's deposit isn't made. I don't exactly want to be answering to him under that kind of condition. I need to get that deposit in and cleared before the phones start ringing. I called you but haven't heard back. I'll try Rosolio next.
RE: Request for Interview
June 25, 2008
To: James Levine
Dear Mr. Levine,
Unfortunately, it's against bank policy to talk to the press. Good luck with your investigation.
Leads
There was correspondence between the bank manager, Romeo Camera, and Stevie Rosolio. Camera and Rosolio were found dead on June 25, tied to the opposite ends of a see-saw. Since they were providing deposits for the manager, it was deduced that they had direct connections to the mob's money in the bank, which the Joker capitalized on. The mysterious murders intrigued the GPD, but we could not form any conclusions at the time.
Reporter James Levine was also investigating the bank, but failed to get through to the bank manager.
Next: Barhyte email