Ccfabg.org
Discovery
March 30, 2008
Ccfabg.org was found after Harvey Dent called his supporters for help against damaging smear charges. It is the website of Concerned Citizens for A Better Gotham, an anti-Harvey Dent group. The page also contained an attack ad where GPD officers accused Dent of having innocent officers arrested to gain media publicity.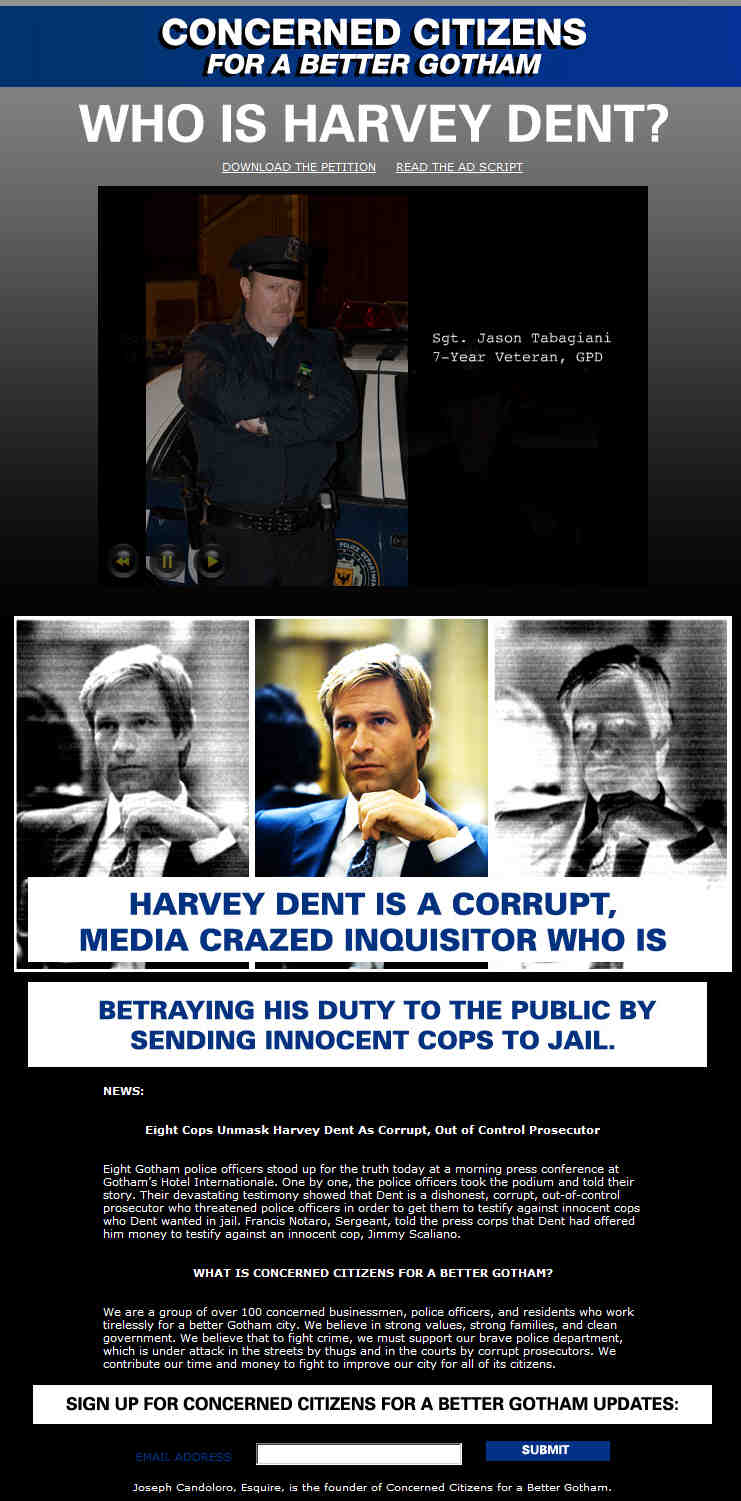 CONCERNED CITIZENS FOR A BETTER GOTHAM
WHO IS HARVEY DENT?
HARVEY DENT IS A CORRUPT, MEDIA CRAZED INQUISITOR WHO IS BETRAYING HIS DUTY TO THE PUBLIC BY SENDING INNOCENT COPS TO JAIL.
NEWS:

Eight Cops Unmask Harvey Dent As Corrupt, Out of Control Prosecutor
Eight Gotham police officers stood up for the truth today at a morning press conference at Gothamís Hotel Internationale. One by one, the police officers took the podium and told their story. Their devastating testimony showed that Dent is a dishonest, corrupt, out-of-control prosecutor who threatened police officers in order to get them to testify against innocent cops who Dent wanted in jail.
Francis Notaro
, Sergeant, told the press corps that Dent had offered him money to testify against an innocent cop, Jimmy Scaliano.
WHAT IS CONCERNED CITIZENS FOR A BETTER GOTHAM?
We are a group of over 100 concerned businessmen, police officers, and residents who work tirelessly for a better Gotham city. We believe in strong values, strong families, and clean government. We believe that to fight crime, we must support our brave police department, which is under attack in the streets by thugs and in the courts by corrupt prosecutors. We contribute our time and money to fight to improve our city for all of its citizens.
Joseph Candoloro
, Esquire, is the founder of Concerned Citizens for a Better Gotham.
New window: Go to site mirror
Smear cops
The officers who appeared in the smear ad located at the top of the Ccfabg.org webpage were all later indicted in Operation Slipknot.
Ccfabg.org button
March 31, 2008
Defaced Harvey Dent buttons with a sticker on the back reading "WWW.CCFABG.COM" were sent to Dent supporters in an unmarked padded envelope. The left side of Harvey Dent's face on the front of the pin was burned.
Notaro ad
April 6, 2008
An update went up, most noteworthy of which was a new smear ad featuring GPD Det. Sgt. Francis Notaro.
April 13, 2008
4/13 UPDATE:
One of the most incredible parts about being the founder of Concerned Citizens for a Better Gotham was meeting the incredible police officers who joined up. This message is for them.
To do what they did - to speak truth to power - took guts. People like
Frank Notaro
, an officer who stood up to the powerful and the elites, who stood up to Harvey Dent's machine of intimidation and brutality, showed an incredible courage. An incredible braveness. They knew that they would be attacked viciously. Their motives questioned. But they knew that they had to speak out.
Now, the backlash against them may be violent. It may be brutal. But each man knows his duty. Each man knows what he must do for his honor. That's why Concerned Citizens for A Better Gotham was founded. Honor.
Thanks, and Keep the Faith
Joseph Candoloro
, Founder, Concerned Citizens for a Better Gotham
Leads