Acmesecuritysystems.com/delos
Discovery
April 1, 2008
At the conclusion of the Clowntravelagency.com exercise, the congratulatory note from the Joker led to a new webpage on Acmesecuritysystems.com, at http://www.acmesecuritysystems.com/delos/
The background of the home page appeared to be a bank of security screens, with camera views of Arkham Asylum, the Gotham Police Department, Gotham National Bank, and Wayne Tower.
Assignment
The participant entered their name, phone number (no dashes or parentheses), and email address. Immediately after submitting the information, they were called.
Woman:
Hello, this is the Acme Security Systems voice print identification system, please say the password clearly.
Participant:
NEEDLE
Gordon:
This is
Jim Gordon
, Major Crimes, Gotham Police Department. Not the voice you were expecting...huh? We have your name. We have your number. We have your computer's IP address. So what I'm saying is, we have you. Consider yourself the Gotham Police Department's newest recruit. You see, this works one of two ways, either you're going to jail for conspiracy in a criminal enterprise, or you'll work for me. We'll be in touch. Oh, have a great day!
When the phone call ended, a notice from the Gotham Police Department appeared on screen, verifying what Gordon had just stated over the phone.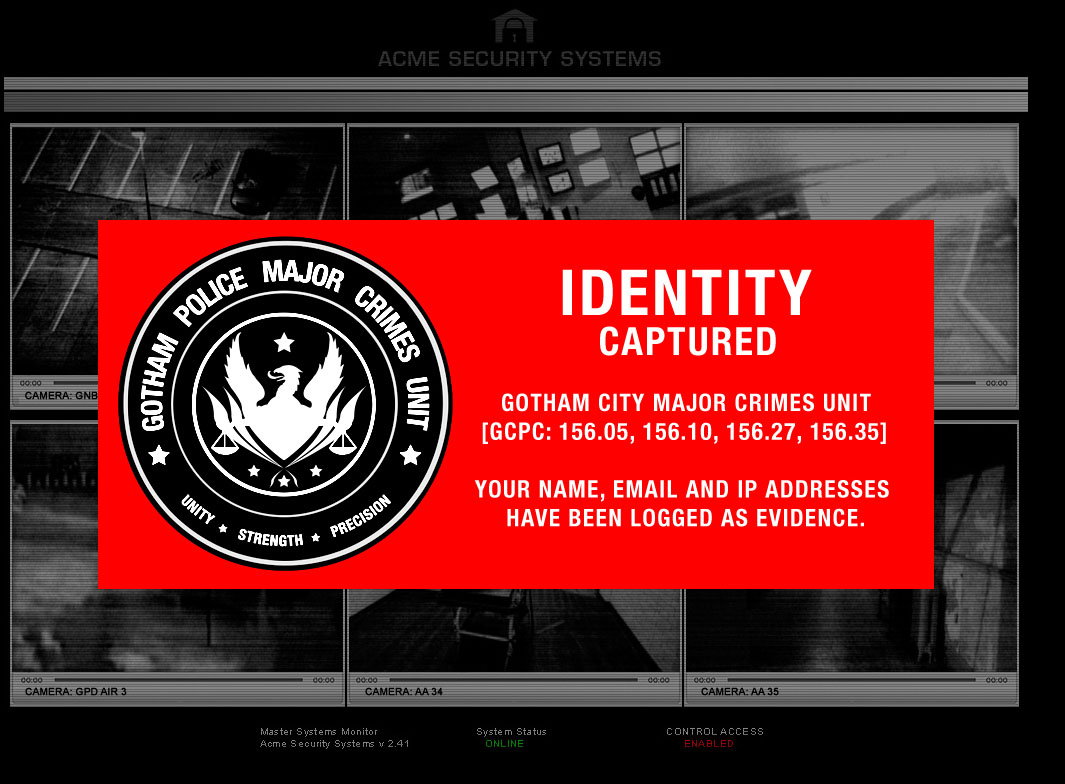 Note: The police codes listed on the "Identity captured" screen represent:
156.05 Unauthorized use of a computer
156.10 Computer trespass
156.27 Computer tampering in the first degree
156.35 Criminal possession of computer-related material
Next in Joker investigations: Evidence
Next in GPD investigations: Operation Slipknot