Chechens (LC6551)
Discovery
November 30, 2007
By logging in as Karl Breitup, participants were able to search for document number LC6551, mentioned in the threatening phone message received by Wearetheanswer.org tipsters:
We heard about your nice little message at the DA's office. I know you have some big ideas about being a good citizen but nobody likes a squealer. Nobody, you hear me?

You don't know anything about what you're talking about. They're out there. They're out there. Listening to lip, putting their lives on the line. He's working in the middle of the night and you're laying in your bed.

You see what happens next time you need one of the boys in blue. These people that you are getting all misty eyed about: you think about who they are, you think about how they might have brought it on themselves. You think about who you want on your side.

You want to know what the score really is? Check out document LC6551. You know where to look.
Document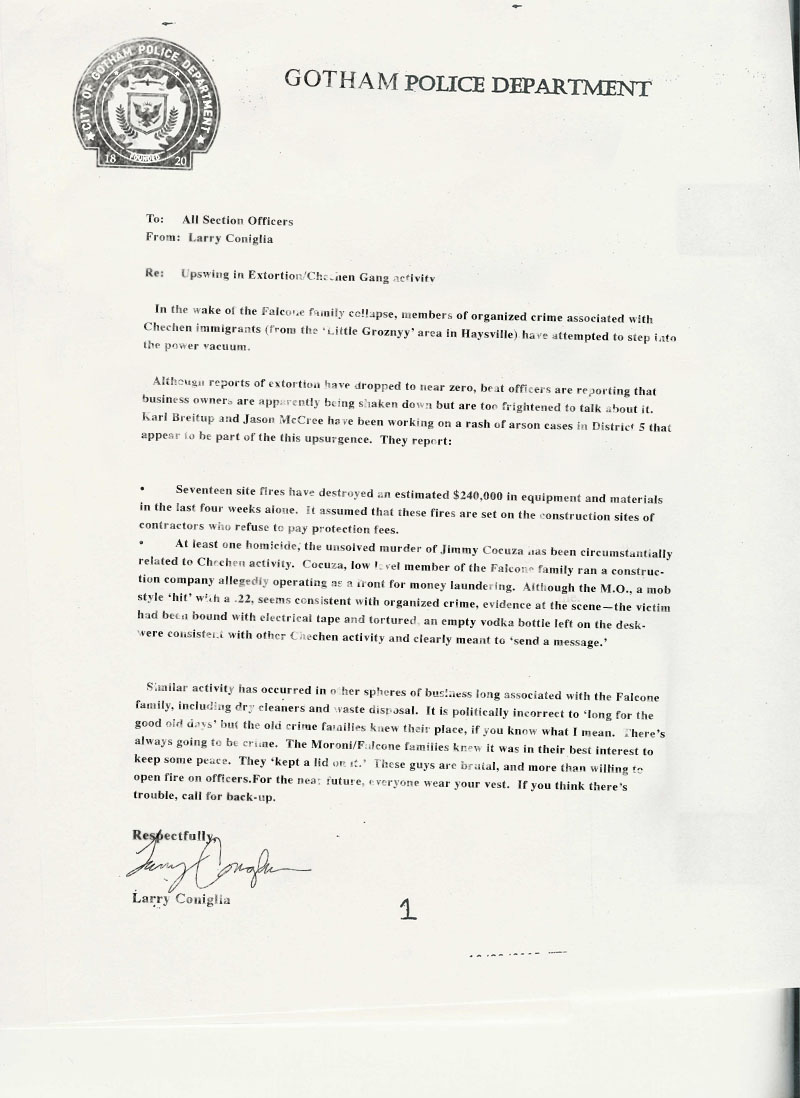 Gotham Police Department
To: All Section Officers From: Larry Coniglia
Re: Upswing in Extortion/Chechen Gang activity
In the wake of the Falcone family collapse, members of organized crime associated with Chechen immigrants (from the 'Little Groznyy' area in Haysville) have attempted to step into the power vacuum.
Although reports of extortion have dropped to near zero, beat officers are reporting that business owners are apparently being shaken down but are too frightened to talk about it.
Karl Breitup
and Jason McCree have been working on a rash of arson cases in District 5 that appear to be part of this upsurgence. They report:
Seventeen site fires have destroyed an estimated $240,000 in equipment and materials in the last four weeks alone. It assumed that these fires are set on the construction sites of contractors who refuse to pay protection fees.


At least one homicide, the unsolved murder of Jimmy Cocuza, has been circumstantially related to Chechen activity. Cocuza, low level member of the Falcone family ran a construction company allegedly operating as a front for money laundering. Although the M.O., a mob style 'hit' with a .22, seems consistent with organized crime, evidence at the scene - the victime had been bound with electrical tape and tortured, an empty vodka bottle left on the desk - were consistent with other Chechen activity and clearly meant to 'send a message.'
Similar activity has occurred in other spheres of business long associated with the Falcone family, including dry cleaners and waste disposal. It is politically incorrect to 'long for the good old days' but the crime families knew their place, if you know what I mean. There's always going to be crime. The Moroni/Falcone families knew it was in their best interest to keep some peace. They 'kept a lid on it.' These guys are brutal, and more than willing to open fire on officers.For the near future, everyone wear your vest. If you think there's trouble, call for back-up.
Respectfully,
Larry Coniglia
Leads
Next: Clearance Request