Gpdiad.com
Discovery
November 30, 2007
Submission confirmation emails from Wearetheanswer.org mentioned that "Internal Affairs investigations" were opened pertaining to possible malfeasance by officers Karl Breitup and Jason McCree. Thus, Gpdiad.com was found.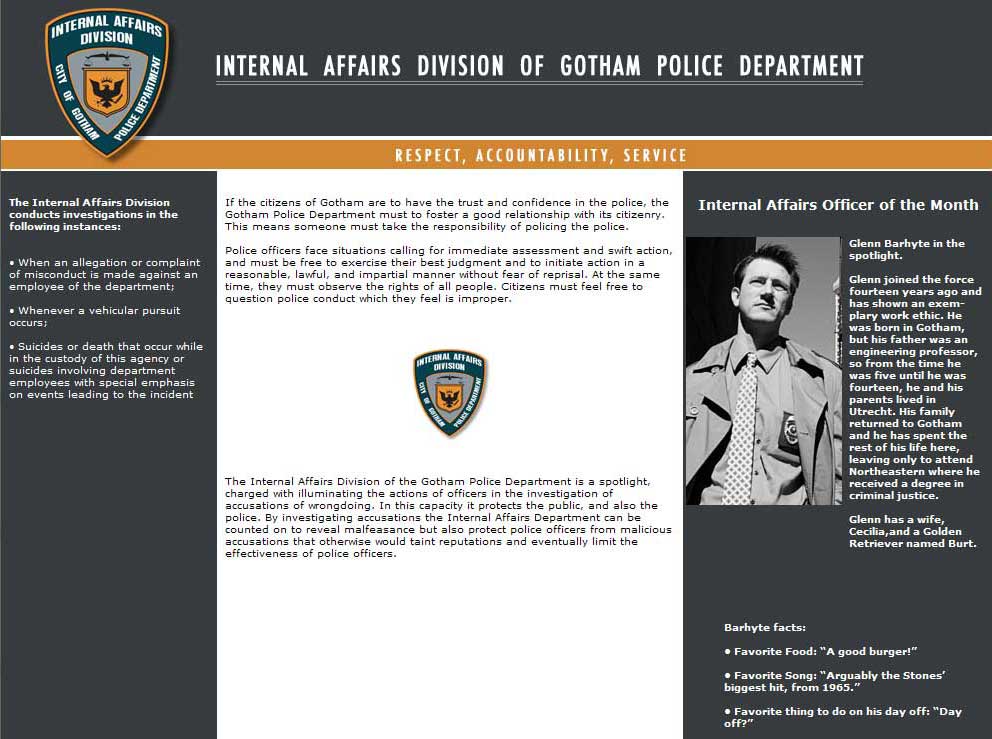 New window: Go to current site mirror
Officers of the month
November/December 2007
Glenn Barhyte in the spotlight.
Glenn joined the force fourteen years ago and has shown an exemplary work ethic. He was born in Gotham, but his father was an engineering professor, so from the time he was five until he was fourteen, he and his parents lived in Utrecht. His family returned to Gotham and he has spent the rest of his life here, leaving only to attend Northeastern where he received a degree in criminal justice.
Glenn has a wife, Cecilia, and a Golden Retriever named Burt.
Barhyte facts:
Favorite Food: "A good burger!"
Favorite Song: "Arguably the Stones' biggest hit, from 1965."
Favorite thing to do on his day off: "Day off?"
Melvin R. Finnigity
January 2008
Melvin was assigned to the Uniform Patrol Section (Night Shift) of the Field Operations Division before a transfer to Internal Affairs. He is to be commended for his formerly unrecognized talent at decrypting coded conversation, which resulted in a successful investigation of several corrupt police officers in the Western Division. He lives in Gotham where he enjoys building his own golf clubs and making his own pizza.
February 2008
Kevin R. Slatteronsky infiltrated the Special Investigative Division on Gangs (SIDG) in an undercover operation which resulted in the conviction of four police officers on corruption charges. Slatteronsky's cover was that he was a new police officer fresh from the institute and was looking for mentors to "show him the ropes." His impressive abilities at winning the confidence of other officers was critical to the investigation. He lives in Granton with his wife Melba.
Jason Arguellino-Diaz
March 2008
Jason transferred to Internal Affairs from the Anti-Smuggling Marine Unit. He is to be commended for a life-saving incident which occurred while Jason was off-duty and shopping in a hardware store in the 1200 block of Farragut Avenue in Granton. A car careened off the street and crashed through the storefront window. The late-model compact car was pinned between the store wall and an inside cement pillar. Taking tools from aisle 12 of the hardware store, Arguellino-Diaz drilled into the car using a 120 volt electric drill, then picked up a 16-inch, 13-volt double-insulated cordless saw. He used the tool to cut thru the car metal and extract the victim. The officer staunched the bleeding and provided basic first aid which stabilized the patient. The EMT at the scene said that Arguellino-Diaz' quick thinking and expert sawing saved the victim's life.
Juan Gustavo DeSilviano
April 2008
For ten years, Juan DeSilviano has brought his investigative excellence to Internal Affairs. After graduating with a degree in criminal justice from Yorke College, DeSilviano joined the GPD as a surveillance expert. As a child, he built and operated ham radios, which led to an interest in recording devices. Combine that with a passion for James Bond and you have a super-sleuth in the making. Last month, DeSilviano built a custom rig for dancer Kiki Laroo, who performs at a docklands nightclub frequented by members of the Gotham underground. The tiny device recorded an illegal transaction between a Maroni foot soldier and an officer from Sheal station. DeSilviano's expertise, good nature, and professionalism have made him a favorite among colleagues. Former partner Glenn Barhyte calls DeSilviano, "the best cop I've ever worked with. That man really knows his job."
Rosemarie Anna Dunslim
May 2008
Rosemarie has been an Internal Affairs staple since the department's inception. Affectionately known as Rosie, she has handled numerous roles in the department. For five years, she managed the desk of division Chief Bennett Riley until she was asked last year by
Commissioner Loeb
himself to man the intake line for the
"We Are the Answer"
program. "My office is a mess without her, but Rosie is so talented and able that the commissioner felt she was needed elsewhere, and he was right," said Riley. Dealing with an intake line is one part skill, one part intuition, and one part psychology. Rosie used all her talents when she received a call from a mentally disturbed Gotham citizen. Using the man's nonsensical sputtering, Rosemarie figured out that an off duty police officer wearing a disheveled GPD jacket was threatening to arrest random citizens outside Alienz, a nightclub in trendy North Gainsbury. Internal Affairs is currently investigated this alleged abuse of police authority. As for the informant? Rosie tracked him down and made sure he had a permanent place to sleep and access to medical care.
Jojo
June 2008
Jojo, Internal Affair's drug-sniffing German Shepard, found a kilo of drugs that went missing from the narcotic's department evidence locker last month. Jojo's primary handler, Officer Celia Beatersly-Rhodes, was on her way to take Jojo to the department vet for a routine checkup when she decided to stop at a nearby station to surprise an old partner. Trained to pick up the slightest trace of illegal substances, Jojo started barking immediately upon entering the ex-partner's work area. The ex-partner claims he was taking the evidence to the forensics lab for special testing, but the matter currently remains under investigation. And for the record, Jojo's checkup went fine.
Audio feed
November 30, 2007
By logging into Gpdiad.com/feeds/as12061500 using Glenn Barhyte's SID account information, an audio feed was made available for the Dec. 1 sting operation.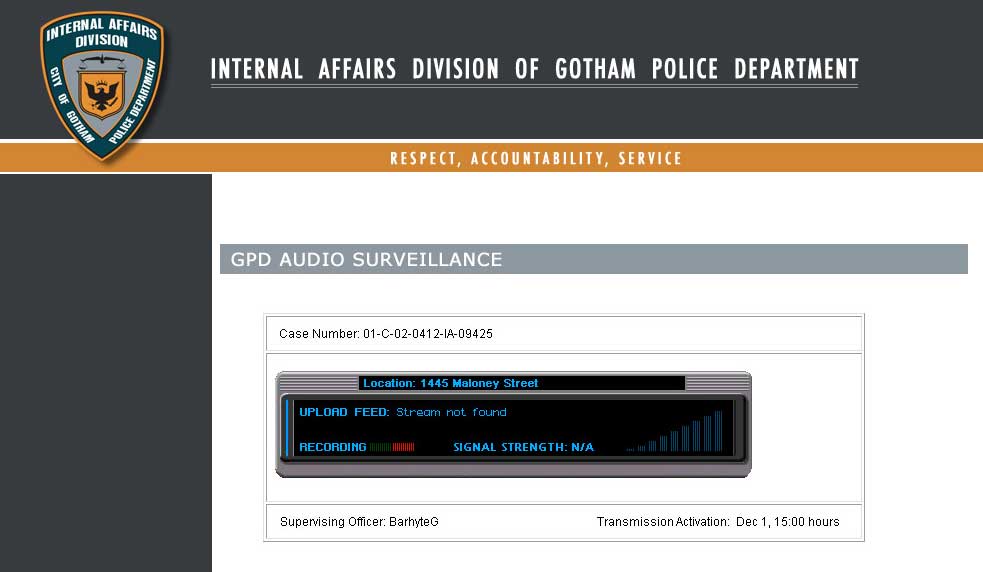 Next: Betty's House of Pies wiretap
Leads