GVAFoundation.org
Discovery
November 23, 2007
From a mention at the bottom of Rememberinggina.org, GVAFoundation.org was discovered. It is the website for the Gotham Victims Advocate Foundation, which provides aid to victims of crime in Gotham City.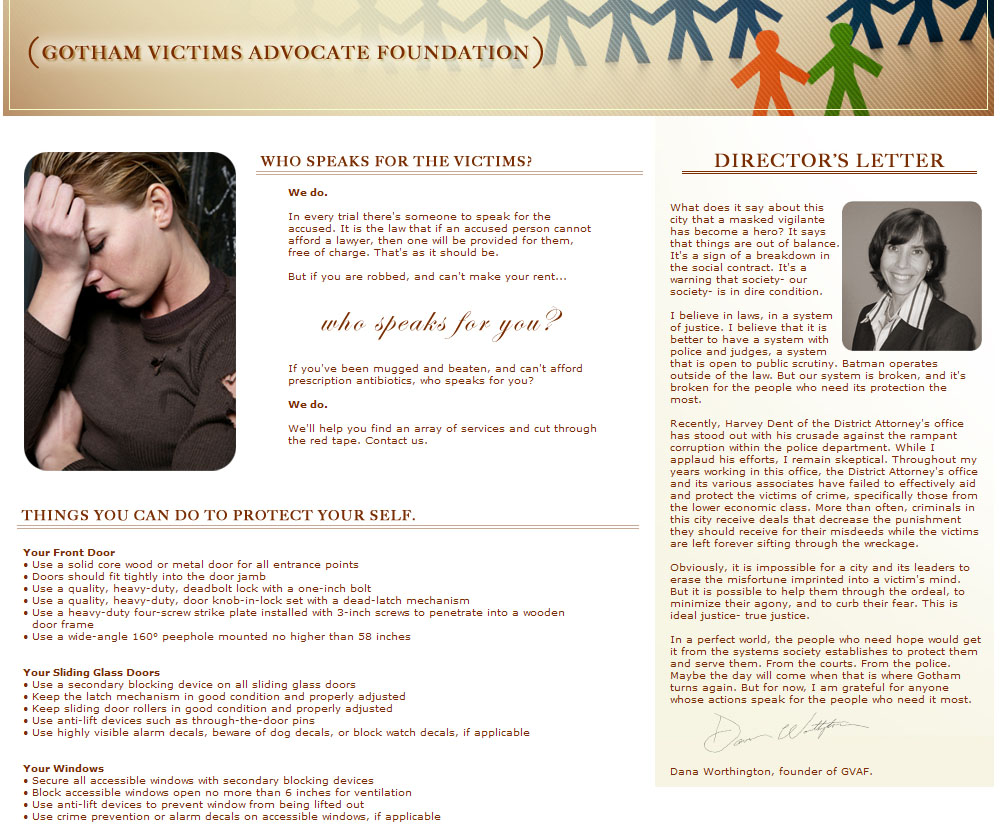 New window: Go to site mirror
Security
Get a Home Security Evaluation
Several companies will come to your house and do a security evaluation for free. These companies are in the security business. They will want to sell you an alarm system, but even if you can't afford an alarm system, they will be able to give you simple, useful advice on keeping your home or apartment safe. We've had good reports on
Acme Security Systems
, but there are many others.
Letter
November 30, 2007
Protecting Victims
The Law requires that victims of crime be protected, but we've had five people call us in the last four weeks complaining that they have been approached by predatory security firms and lenders who clearly knew that their homes had been vandalized during the Fear Toxin riots in The Narrows. One of our clients contracted with the security system that approached her, which promised to provide her with 24 hour security for $12.99, and to install the system for free. It was the classic bait and switch. We reviewed the contract and found that after three months at the monthly security rate would go to more than fifty percent higher than the average security system charges in the city, and that added to that monthly charge would be a $15.99 a month fee to cover the installation costs of her system. The contract is for three years and there is no release clause.
It's apparent that these companies are getting the victim's information. One of our volunteers pretended to interview for a job with one of these companies. She reported that there were Gotham Police documents on the desk of the man who interviewed her. When she asked if the company was working with the police, the man interviewing her winked and said no, but that the Gotham Police's
secure internal documents
server was an open book. He said the GPD's document security was a joke.
GVAF has scheduled an appointment with
Police Commissioner Loeb
to discuss the issue of identity security for victims. We have also filed a lawsuit for the GVAF client with the security company.
Candidacy
March 5, 2008
GVAFoundation.org President Dana Worthington announced her candidacy for Gotham District Attorney on the site:
I am announcing my candidacy for District Attorney of Gotham City.
If I donít, who will represent you, the people of Gotham?
I have always believed that someone must hold government accountable. I have always believed that it was important that someone outside of government is there to demand good governance.
Government is failing the people of Gotham City.
In the months since the Narrows attacks, this city has shown itself unwilling or unable to solve the problems of corruption and poverty that are threatening each and every one of us. I can no longer stand on the outside. It is time to change this city from within. I am asking your support.
Dana Worthington
, founder of GVAF.
Leads