Gotham Cable News
June 20, 2008
"Slipknot" on Fugitives Nabs Two "Smear Cops"
GPD got some help from the famous INTERPOL this week.
Word has leaked out that the international police organization has arrested two fugitive "smear cops."
Their bogus charges against Harvey Dent almost derailed his campaign, but today, they're facing justice in Gotham prisons.
Billy Dambrosio and Jimmy Nickerson were nabbed in the Thailand beach town of Hua Hin. The arrests mark the continuing success of "Operation Slipknot" — an investigation coordinated by MCU chief Jim Gordon targeting officers suspected of ties to Gotham mob figures.
With the arrest of the two cops, 29 of the 30 wanted officers have been apprehended. Remaining fugitive Tony Elwell's whereabouts remain unknown.
"Operation Slipknot couldn't have been implemented without the help of everyday Gotham citizens, INTERPOL, and local police cooperation around the world. I couldn't be more pleased with the work that INTERPOL did in tracking down these two fugitives from justice."
Gotham citizens Ninette Jennifer Bachman and boyfriend Troy Jeremy Barbason were vacationing in the town when they spotted two men on the beach "who really looked out of place," said Ninette.
According to Troy, "They felt like cops to me, and this isn't the type of place you normally see cops. I remembered seeing a list of faces on the Slipknot website so I went back up to our room and punched it up on my laptop and there they were."
The young couple alerted local authorities who contacted INTERPOL to make the actual arrest. The suspects were apprehended at a popular nightclub.
Citizens with information about the whereabouts of Tony Elwell are urged to contact the GPD immediately.
Snapshots of Batman Pour into GCN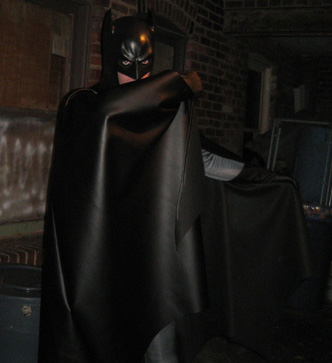 GCN IS CALLING FOR CITIZEN-JOURNALISTS TO SUBMIT SHOTS OF BATMAN FROM GOTHAM STREETS.
The photo above is just one of hundreds that have poured into GCN since the call for Batman pics. Citizens have responded to GCN's call with photos and videos of the masked avenger.
"This experiment in citizen-journalism may end up transforming news media," said Comcast Gotham's president Panos Georgopolas. "We can cover so many more stories of interest to Gotham citizens with the help of ordinary people."
"Batman has proven difficult for even the most well-financed networks to cover. Slipping into crime scenes under cover of night, Batman is extremely difficult to catch in a usable photo," said GCN photography editor Ryan Duke McGillicutty.
"Before the call for photos, we had almost no shots of Batman to use," said McGillicutty. "But just in the last week, we've had more shots come in than in the last year using professional shooters."